Free Career Assessment & Test
What career is best for me? Is there a free career test that can just tell me?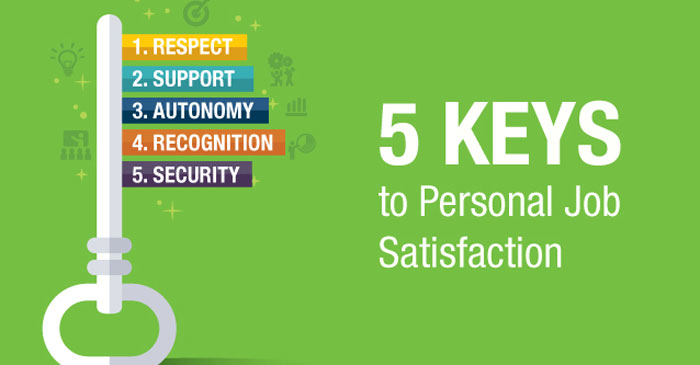 There's no easy answer to tell you which career is best for you, however there are many free career tests available to people to help them decide. We are proud to offer one such free career test to the right. Before taking the career test, there are other important factors to understand when making this life altering decision.  
One important thing to consider when trying to find the right career for you is employee job satisfaction. Contrary to popular belief, the majority of Americans may actually be satisfied at work! In fact, a recent study by the Society for Human Resource Management (SHRM) found that 86% of U.S. employees were satisfied with their current jobs in 2014—which is an increase of five percentage points from 2013. Although job satisfaction isn't the only consideration when it comes to choosing a career, it can be really important when it comes to your quality of life. That's why we're taking a look at what factors are important to happiness at work—and how education can play a role.
What contributes to employee job satisfaction?
When you think of what makes people happy in their jobs, the first things that probably come to mind are good salary and benefits. So, you may be surprised to learn the SHRM survey found that being treated with respect was rated as the most important factor contributing to job satisfaction. And having trust between employees and senior management came in second. What a shocker, how you're treated by your employer has a real effect on your happiness at work! Not surprisingly, benefits, compensation, and job security rounded out the top five.
Here are some more work values that are important to employee satisfaction[i]:
Achievement: The job is result-oriented and allows people to capitalize on their strengths and gain a sense of accomplishment.
Recognition: The employer offers opportunity for advancement, leadership, and recognition of their value.
Independence: The job gives people a sense of freedom and autonomy in their work.
Relationships: The employer encourages staff to help each other and collaborate in a friendly, non-competitive environment.
Support: The management supports and stands behind its employees, which is reflected in company policy.
Working Conditions: The employer offers job security and good working conditions (including company culture).
Another significant thing to consider is whether you feel that your work has meaning or value. Obviously what is meaningful to one person won't have the same meaning to another. But, a recent survey by Payscale found that jobs that pay well and are considered to help contribute to society—such as neurosurgeons— tend to have the highest overall job satisfaction rates. We can't all be neurosurgeons, but how you feel about the work you do can have a direct impact on how happy you are in your job. So it's worth keeping in mind when choosing your major!
Where does education fit in?
When planning your future, you may want to consider the value of earning a college degree as it relates to finding your ideal job. According to a recent study by Pew Research Center, about 91% of people with a bachelor's degree—and 96% of those with a graduate or professional diploma—said their education has paid off, or they expect it will in the future. That's all well and good, but how does that translate into job satisfaction? The study also found that highly educated people were also more likely to report being very satisfied with their current jobs—or to say their education provided enough training to advance their careers.[ii]
How many people work in the field of their degree or major?
The last thing you want to do is put time, effort, and money into earning a degree that doesn't end up being related to your actual career. So how many people end up working in the same field as their degree? The Pew study found 49% of college graduates said their work is "very closely" related to their undergraduate or graduate degree.  However, respondents with graduate or professional degrees were more likely to say their current job matches "very well" with their degree, than those who just earned a bachelor's degree. [ii]
But what about majors? The good news is almost 69% of college graduates said their major is at least somewhat related to their current work.  But this view changes depending on the field. For example, 33% of education, liberal arts and social science majors said they should have chosen a different field of study to help better prepare them for their ideal jobs. But only 24% of science and engineering majors, reported similar regrets.  Along the same lines, 78% of science and engineering majors, and 73% of business majors, said they have a job related to their field of study—but those numbers drop to 59% when it comes to social science, liberal arts or education majors. [ii]
However you slice it, choosing a major, degree program—or career path—can be very daunting. And there are a number things to consider when making your decision. What it comes down to is taking some time to figure out what your priorities are, and where your strengths and interests lie. Then it's time to start looking for a degree program to help you earn the qualifications you need to be successful in your field. But you don't have to do it alone! Search for degree programs that match your specific career goals. And if you haven't already, fill out the free career test  & assessment quiz above!
Sources: [i] onetonline.org  |  [ii] pewsocialtrends.org
Take 20 minutes to complete this FREE Career Test & Assessment!
Give us 20 minutes and we will guide you through our free career test which contains 71 questions aimed at identifying what types of things you like to do and don't like to do. When you are done we will let you know how your personality traits and likes line up with careers with similar likes and traits!
Frequently Asked Questions About Our Free Career Test
How does this free career test determine my personality type?
What is involved in taking this career test
Can I start the career test and come back later to finish it?
What do I do after I have taken the career quiz?
Can I come back anytime to review my results?
How important is it to people in the U.S.to actually use their learned skills?