Masters Degree in Human Resources Online Programs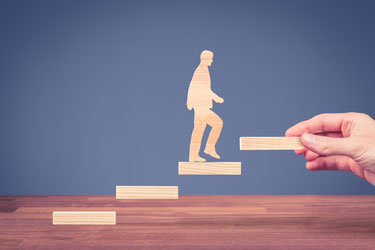 The work done by human resources professionals is imperative to the success of businesses. As you likely know, they collaborate across departments and with individuals and groups to provide guidance and support in areas such as employee relations, hiring and training, and compensation and benefits.i 
These are just some of the many areas in which human resources professionals serve. Earn your Online Masters Degree in Human Resources through an accredited college or university. To help prepare to pursue advanced human resources occupations, many professionals earn an Online Masters in Human Resources. Doing so may help them develop and enhance their careers in the areas of leadership and effectiveness.
To better fit their busy work schedules, many choose to pursue their Online Masters in Human Resources degree online. According to a 2015 study conducted by Aslanian Market Research, 63 percent of the students it surveyed pursued a graduate degree online while they had full-time employment.ii
Online Masters in Human Resources: Professional Insight
"Earning a religious studies degree allowed me to view the world from a different lens. How people from different religions and cultures think, learn, and conduct business. Culture and religion plays a large part not only in personal development but in business relationships and transactions, and having a deeper understanding of the way people operate on a global scale has allowed me to serve an international client base and expand my offerings beyond the USA."

- Matthew W. Burr, HR Consultant, Assistant Professor
Click To Tweet!

Essential Curricula in an Online Masters Degree in Human Resources
There are three common master's degrees in the area of human resources: the Master of Science in Human Resources (M.S.), the Master of Arts in Human Resources (M.A.), and the Master of Business Administration with an emphasis in Human Resources (M.B.A.). Some universities also offer a Master of Professional Studies in Human Resources degree program.
The M.S. and M.A. in Human Resources typically focus on HR-related topics and allow students to emphasize one or more aspects of HR through elective coursework. Meanwhile, the M.B.A. typically focuses on business-related topics and allows student to emphasize one or more aspects of human resources through elective coursework. Which degree students choose to pursue likely depends on their personal and professional goals.
Master's degree programs generally take two years to complete, but several factors—the program's structure, a student's enrollment status, and a student's academic and professional preparation—may affect how long it takes to earn the degree. iii
Curricula in master's-level human resources programs typically cover subjects such as:
Depending on the career path they intend to pursue, students in human resources programs may also study subjects such as instructional design vi, information technology,vii compensation analysis,viii benefits administration, ix and business-related subjects such as management, finance, and accounting.x
Human resources management
Employment law
Business ethics
Workforce planning
Compensation and benefits
Organizational change
Analytics and metrics
Labor management
Employee relations
Psychology (behavioral or educational)iv
Conflict managementv
What Skills Might Human Resources Professionals Have?
According to the Bureau of Labor Statistics, human resources specialists have the following skillsets and qualities:
Decision-making skills
Interpersonal skills
Listening skills
Speaking skills xi
In many roles, especially more advanced ones, human resources professionals may also need leadership and organizational skills, critical-thinking skills,xii and communication skills.xiii In some cases, they must also be detail-oriented with a well-developed business acumen.xiv
In graduate-level human resources programs, such as an Online Masters in Human Resources, professionals engage in coursework that could help develop their skills in these important areas.
Salary Potential and Projected Job Growth with an Online Masters in Human Resources
Human resources professionals fill a range of occupations. Following are some potential salaries and growth projections for human resources professionals from the U.S. Bureau of Labor Statistics (BLS). As of 2015:
Human resources managers earned a median annual salary of $104,440. The BLS predicts that this occupation will grow by 9 percent between 2014 and 2024.xv
Human resources specialists earned a median annual salary of $58,350. The BLS predicts that this occupation will grow by 5 percent between 2014 and 2024.xvi
Training and development managers earned a median annual salary of $102,640. The BLS predicts that this occupation will grow by 7 percent between 2014 and 2024.xvii
Compensation and benefit managers earned a median annual salary of $111,430. The BLS predicts that this occupation will grow by 6 percent between 2014 and 2024.xviii
Human resources professionals might also pursue employment as top executives in HR or work as postsecondary teachers in business schools or community colleges.xix According to the BLS' 2015 study, top executives in business earned a median annual wage of $102,690.xix Postsecondary teachers earned a median annual salary of $72,470.xx The BLS predicts that these occupations will grow by 6 percentxxi and 13 percentxxii respectively between 2014 and 2024.
The BLS states that in many human resources occupations and other occupations, having a master's degree may lead to career enhancement or perhaps higher pay.xxiii Across occupations, full-time workers with a master's degree earned a median annual wage of $68,000 in 2013.xxiv Professionals with a bachelor's degree, meanwhile, earned a median annual salary of $56,000 that same year. xxv
Certification in the Field of Human Resources
If you're new to the field of HR or pursuing your master's degree to change the direction of your HR career, you might want to pursue a professional certificate.
Pursuing a specific or general certificate in HR may help you build and validate your skills, differentiate yourself in a competitive job market, and broaden your potential career paths.xxvi
Following are some of the common credentialing agencies for professionals in the field of human resources:
Earning an Online Masters Degree in Human Resources: How It Works
While the structure of an online program varies by institution, we can give you a sense of how an online program might work.
First, the majority of online programs offer asynchronous learning which enables students to access materials and learning opportunities at times convenient to them. The minority of online programs offer synchronous learning which requires students to access courses at specific times. Some programs also let students move through curricula at their own pace.
Second, students typically learn through a variety of e-learning methods. Many of these methods are highly interactive and utilize a breadth of media to facilitate student learning.
Third, many universities support online students with resources such as online writing centers, libraries, and academic assistance. These help online students access the programming they need to earn their degree.
Finally, many online programs have regional or national accreditation. This may help ensure that institutions and programs deliver a high-quality curriculum and faculty.
Should you choose to join the ranks of students studying human resources online, here are some potential benefits:
Flexibility and convenience: For busy professionals, people with families, and students living in remote areas, online programs may allow a degree of flexibility typically not offered through on-campus programs. Time once spent commuting to class can be devoted to studying, and students may be able to design their programs to fit their work and personal schedules.
Applicability: Many people who earn an online master's in human resources work fulltime and can apply what they learn to their work.
Networking: Online programs sometimes attract people from around the world. Students in online human resources programs may therefore expand their networks nationally and internationally.
Take the Next Step!
If you want to pursue an Online Masters Degree in Human Resources, begin your journey here. Through eLearners, you can peruse a variety of our sponsored online human resources programs. Our sponsored listings give you information such as a school or program's accreditation status, an outline of its curricula, and detailed contact information for colleges and universities. As you find programs you like, contact schools/universities directly to determine if a program may be an ideal fit for you. Good luck!
---
[i] bls.gov/ooh/business-and-financial/human-resources-specialists.htm#tab-2 | [ii] aslanianmarketresearch.com/sites/default/files/OCS2015-Final_Report.pdf | [iii]www2.ed.gov/about/.../list/.../master.doc | [iv] bls.gov/ooh/management/training-and-development-managers.htm#tab-4 |[v] bls.gov/ooh/management/human-resources-managers.htm#tab-4 | [vi] bls.gov/ooh/management/training-and-development-managers.htm#tab-4 |[vii] bls.gov/ooh/management/training-and-development-managers.htm#tab-4 | [viii] bls.gov/ooh/business-and-financial/compensation-benefits-and-job-analysis-specialists.htm#tab-4 | [ix] bls.gov/ooh/business-and-financial/compensation-benefits-and-job-analysis-specialists.htm#tab-4 ;| [x] bls.gov/ooh/business-and-financial/compensation-benefits-and-job-analysis-specialists.htm#tab-4 | [xi] bls.gov/ooh/business-and-financial/human-resources-specialists.htm#tab-4 | [xii] bls.gov/ooh/management/human-resources-managers.htm#tab-4 | [xiii] bls.gov/ooh/management/training-and-development-managers.htm#tab-4 | [xiv] bls.gov/ooh/business-and-financial/compensation-benefits-and-job-analysis-specialists.htm#tab-4 | [xv] bls.gov/ooh/management/human-resources-managers.htm | [xvi] bls.gov/ooh/business-and-financial/human-resources-specialists.htm | [xvii] bls.gov/ooh/management/training-and-development-managers.htm | [xviii] bls.gov/ooh/management/compensation-and-benefits-managers.htm#tab-5 | [xix] bls.gov/ooh/management/top-executives.htm | [xx] bls.gov/ooh/education-training-and-library/postsecondary-teachers.htm | [xxi] bls.gov/ooh/management/top-executives.htm | [xxii] bls.gov/ooh/education-training-and-library/postsecondary-teachers.htm | [xxiii] bls.gov/careeroutlook/2015/article/should-i-get-a-masters-degree.htm | [xxiv] bls.gov/careeroutlook/2015/article/should-i-get-a-masters-degree.htm | [xxv] bls.gov/careeroutlook/2015/article/should-i-get-a-masters-degree.htm [xxvi] td.org/Certification | [xxviii]nces.ed.gov/pubs2009/2009044.pdf