The Basics of Becoming a Computer Programmer
Are you investigating how to become a Computer Programmer and want to know more about the career? The main job of a Computer Programmer is to create code used in software programs. They use diagrams created by software developers to create a program that a computer can follow. They write code in computer languages, such as C++ and Python. They debug the code and test it to ensure it works properly. They may use code libraries and other computer-assisted software engineering tools to simplify the code writing.
According to the Bureau of Labor Statistics, most computer programmers have a bachelor's degree in computer science or a related subject; however, some employers hire workers who have an associate degree. Programmers who work in specific fields, such as healthcare or accounting, may take classes in that field to supplement their degree in computer programming. In addition, employers value experience, which many students gain through internships.
What Are Hurdles to Becoming A Computer Programmer?
I think the biggest hurdle for entry level computer programmer positions relates to understanding the code. HOWEVER, I think there's a second MASSIVE hurdle: Fitting in. Fitting into tech culture is all about knowledge. If you don't know how to perfectly manipulate a CSS file or how to write a JS script, you will get laughed at. The key is to OWN it. The knowledge gap is just temporary. The best response to fitting in is to be curious and inquisitive. Asking questions goes a very long way. Trying to learn will garner respectability. The more you try to fight the knowledge and technical gap, the worse it will be for you. Roll with the waves until you become an integral part of the team.
Click To Tweet!
- Anthony Jullien, Director of IT @ Dupray
A Computer Programmer's Salary Potential
Lowest 10th%
$50,150
Median
$86,550
Highest 90th%
$140,250
States with the Highest Employment Levels
| STATES | 2019 ANNUAL MEAN WAGE | NUMBER OF JOBS |
| --- | --- | --- |
| California | $103,790 | 24,400 |
| Texas | $95,620 | 20,430 |
| New York | $92,550 | 13,380 |
| Florida | $80,370 | 9,670 |
| Illinois | $94,010 | 9,260 |
How Do Your Skills Stack Up?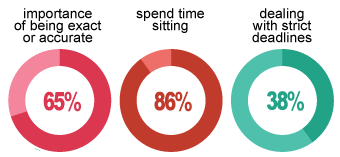 As reported by O*NET, these types of tasks are conducted every day in this role – would you feel comfortable performing these tasks as part of the day to day life of a Computer Programmer?[i]
What Will You Learn with a Computer Science Bachelor's Degree?
A bachelor's degree in computer science usually covers course work such as:
Operations Management
Emerging Trends in Technology
Web Analytics
Fundamentals of Cloud Computing
Business Project Management
Computer science bachelor's degrees are typically designed to provide students with technology skills in areas like mobile, cloud computing and analytics. In addition to general education courses, students may cover topics including database implementation strategies for programmers; mobile web application development; distributed database management; and distributed applications architecture. In some cases, students may choose an area of specialization—such as Apple iOS app development—and may be required to complete a capstone course to demonstrate their competencies.
Who are some Famous Computer Programmers?
Biography.com compiled a list of influential and famous computer programmers, here are some of the most notable programmers:
Mark Zuckerberg - Creator of the world-famous social network site, Facebook, was a computer programmer by the age of 12.
Steve Wozniak -An American computer scientist best known as one of the founders of Apple and the inventor of the Apple II computer.
Jack Dorsey - A businessman and Computer Programmer best known as the founder of the social networking site Twitter.
Marissa Mayer - led the development of Google's most successful products for more than 10 years and was appointed CEO of Yahoo in 2012, at the age of 37.
FAQs About How to Become a Computer Programmer
What general knowledge should a computer programmer have?
What Skills do Computer Programmers Possess?
How many computer programming jobs are there in the U.S.?
What professional certificates might I pursue as a computer programmer?