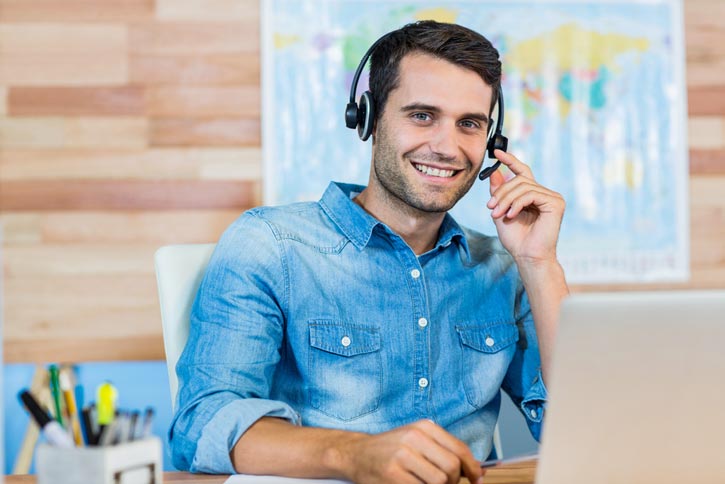 The Basics of Becoming a Travel Agent
Are you investigating how to become a Travel Agent? The main job of a Travel Agent is to sell transportation and accommodations to people planning trips. They help clients choose a destination, make travel arrangements, and plan an itinerary. Travel Agents arrange tour packages and excursions and find schedule information. They may also give advice about local customs and weather, and inform clients about require documents, such as visas and passports. They also help their clients with crises, such as cancelled flights.
In general, it is not likely that you will need a post-secondary degree to become a travel agent. Most employers only require a high school diploma. Many Travel Agents do however take classes related to the travel industry at community colleges, technical schools or vocational schools. [ii]
What Are Hurdles to Becoming A Travel Agent?
I think the biggest hurdle in entering the Travel Agency sector is sales experience, as travel agency employers will all look for this on resumes. Therefore, I would recommend addressing any sales aspects of previous jobs when writing your resume. If you have worked in hospitality or retail, talk about any times you have practiced upselling or successfully recommended a product to customers. Showing initiative to be sales-savvy will set you apart as a great prospect.
Click To Tweet!
- Christina Hanna, Marketing & Communications @ LeaveTown
What are Travel Agencies looking for when finding the right candidate?
I have known agency owners that have hired for a type of personality and attitude they can work with and then partner with us, or for that matter any solid travel agent training program, to help them learn the job.
Click To Tweet!

I advise job seekers to try for face-to-face, informational meetings in order to give an agency hiring manager the chance to know them.
Click To Tweet!


- Heather Kindred, Program Director @ Travel Leaders of Tomorrow
A Travel Agent's Salary Potential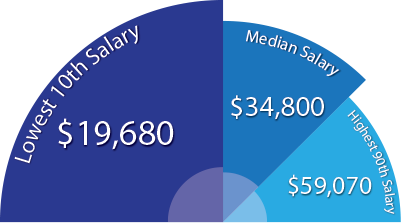 [ABOVE] National Salary Averages for a Travel Agent[iii]
Top States with the Highest Salary Averages[iv]
| States | Lowest 10th% Salary | Highest 90th% Salary |
| --- | --- | --- |
| Delaware | $24,730 | $53,710 |
| Massachesetts | $24,620 | $66,840 |
| Delaware | $24,310 | $53,960 |
| New Jersey | $24,280 | $58,330 |
| Texas | $24,260 | $59,190 |
How Do Your Skills Stack Up?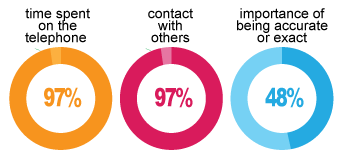 As reported by O*NET, these traits are ranked as either extremely or very important to the day to day life of a Travel Agent?[i]
What Will You Learn with a BS in Hospitality and Tourism Management Degree?
A bachelor of science degree in hospitality and tourism management typically covers subjects like:
Fundamentals of Marketing
Hospitality & Tourism Law
Beverage Management
Hospitality Managerial Accounting
Convention Sales
Bachelor in hospitality and tourism management degrees are usually designed to help provide students the expertise to help them pursue careers as hotel managers, event planners, cruise directors, and tour managers. In addition to general education requirements courses, students typically delve into hospitality management and business courses on topics including food, beverage and service management; hospitality law; event and club management; casino management, lodging operations, and tourism; and accounting, finance and economics.
Did You Know?
According to O*NET, here are a few interesting pieces of information:
36% responded that it's Extremely important that they be able to compete or at least be aware of competitive pressures
59% responded that the job is highly automated
44% responded that they have to deal with unpleasant or angry people once a year or more but not every month
52% said that the job require them to meet strict deadlines
FAQs About How to Become a Travel Agent
What is the average salary a Travel Agent makes?
Do Travel Agents need to be licensed or certified?
WWhat Skills do Travel Agents Posses?
What job titles are similar or the same as a Travel Agent?
What are common types of software I would have to learn as a Travel Agent?
What types of personalities are a good fit for becoming a Travel Agent?