The Basics on How to Become a Public Relations Specialist
Are you investigating how to become a Public Relations Specialist? The main job of a PR Specialist is to promote or maintain a public image for an organization or individual by acting as a liaison between an organization and the public.
On a day to day basis they may write press releases, draft speeches, and interact with the media as well as coach clients on how to communicate with the public. PR Specialists also determine the advertising and promotion programs that support an organization's overall image. in order to perform these duties, a public relations specialist, needs expertise in communications techniques ranging from written to visual, plus an understanding of marketing methods, customer service processes, and management principles.
According to the Bureau of Labor Statistics, most Public Relations Specialists have bachelor's degrees in public relations, communications, business, or journalism. Others may have master's degrees in business administration or public administration.
What Are Hurdles To Becoming A Public Relations Specialist?
Anyone who is considering the public relations field should take as many classes as possible that relates to the industry. Get involved with a firm as an intern so you can make sure this is something you enjoy doing. Once your in the field, it is important to continue to educate yourself about the best practices and join PR groups like PRSA. Most importantly, surround yourself with people who are better and more talented then you are so you can learn from them too. They will make you stronger professionally and a better PR strategist.

Click To Tweet!
- Tracie Hovey CEO at Ovation PR & Advertising
A Public Relations Specialist's Salary Potential
Lowest 10th%
$34,590
Median
$61,150
Highest 90th%
$115,430
States with the Highest Employment Levels
| STATES | 2018 ANNUAL MEAN WAGE | NUMBER OF JOBS |
| --- | --- | --- |
| California | $74,990 | 26,700 |
| Texas | $60,600 | 26,110 |
| New York | $78,230 | 25,760 |
| District of Columbia | $109,390 | 18,600 |
| Florida | $60,740 | 11,830 |
How Do Your Skills Stack Up?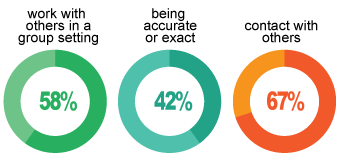 As reported by O*NET, these traits are ranked as either extremely or very important to the day to day life of a Public Relations Specialist.
What You Will Learn With a Public Relations Degree?
Considering earning a bachelor's degree in public relations? Schools with this program usually feature essential PR courses like these:
Business Communications
Writing for Public Relations
Social Media
Public Speaking
Media Ethics and Law
Public relations degree programs usually offer courses to prepare students for strategic thinking, writing, planning, and leadership in the field of PR. Some courses may introduce students to the business end of PR, like marketing, advertising, organizational ethics, e-business, and more. Other courses could focus on particular skill sets like PR writing, journalism, public speaking, and even graphics and layout. You might even cover the ins and outs of social media! What many public relations courses have in common is a focus on building the online and offline communication skills necessary to make a positive impact in this field.
Who are some influential people in the PR space?
According to Business Insider, here are a few important people in the world of PR
Leslie Dach: Former VP of Corporate Affairs at Wal-Mart, has an MBA in Public Administration from Harvard University
Elliot Schrage: VP of Communications at Facebook, holds a J.D. from Harvard Law School
Brandee Barker: Worked in the PR Department at Uber and Spotify, received a degree in journalism from the University of Colorado
Stephanie Cutter: Campaign Manager for President Obama, graduated from Georgetown Law School
FAQs About How to Become a Public Relations Specialist
What is the average Public Relations Specialist salary?
What skills do Public Relations Specialists posses?
What are common types of software I would have to learn as a Public Relations Specialist?
How many public relations agencies are there in the U.S.?
There are 7,527 public relations agencies in the United States (measured by the US Census Bureau in 2008). Across these 7,527 firms, there were 53,063 paid employees. While 5,513 of the firms employed fewer than 5 people, it may be much more common to work for a large firm, as 15,068 employees were spread out across the 65 firms that employed 500 or more people.
What search terms should I look for when searching for a Public Relations Specialist Job?
What professional organizations are out there for a Public Relations Specialist?
Job information sourced from O*NET