Earning an Online Bachelors in Human Resources Degree
Earning an Online Bachelors in Human Resources Degree is an opportunity for you to learn the fundamentals of human resources and how it relates to the success of organizations. The goal of bachelors in human resources degree programs is to give students a basic understanding of the many different elements that successful organizations and human resources departments need. This may include management, strategy, and how benefits and compensation packages can motivate employees.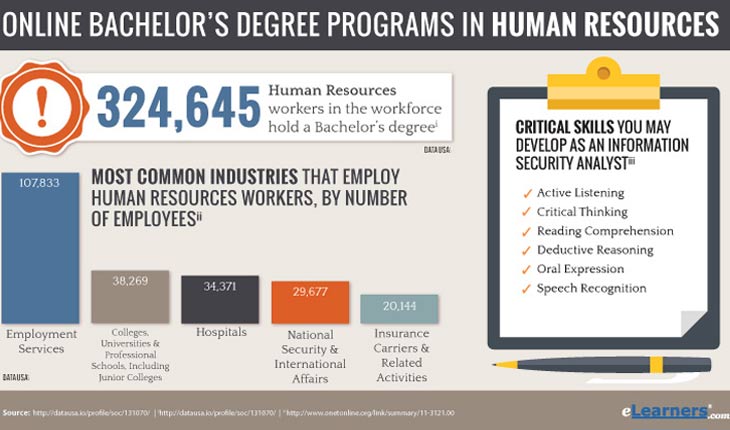 Fun Fact

New hires that undergo a structured on-boarding program are 58% more likely to be with the company after 3 years.
Types of Bachelors in Human Resources Degrees
There are variations in bachelors degree programs, some being a B.A., B.S., or a B.B.A. The distinction between a Bachelors of Arts (B.A.), a Bachelors of Science (B.S.), and a Bachelors of Business Administration (B.B.A.) used to be much more concrete. However, over the years it's blended. Now whether a particular subject awards a B.A., B.S., or B.B.A. depends entirely up to the individual institution. To confuse matters even more, sometimes the same subject could be a B.A. at one school, a B.S. at another, and a B.B.A. at a third.
This is the case for bachelors in human resources degrees. While there are similarities between all three, there are some distinctions. Make sure to research individual programs and institutions to find the perfect match for you and your goals. The explanation of each of the different bachelors degree types are:
Bachelors of Arts (B.A.): Students learn about the ethical, legal, and social influences in the modern business world. Coursework typically covers a variety of subjects that may include, recruitment, labor laws, and compensation. This type of bachelors degree may be more focused on theory and may include more emphasis on liberal arts classes rather than business.
Bachelors of Science (B.S.): This type of bachelors degree includes coursework that varies between individual learning, writing intensive courses, and group projects. While earning a B.S., classes may focus more on research, methods, and the application through various projects.
Bachelors of Business Administration (B.B.A.): This type of bachelors degree is designed to provide students with a broad knowledge of the way companies and organizations function, while allowing for a specialization in one area. Many degree programs incorporate training and practical experience through group projects, case studies, presentations, and internships.
Common Coursework for Human Resources Bachelors Degrees
Human Resource Management: Students are taught the fundamentals of policies and administration, procedures, maintaining an effective team, and are introduced to international human resource management practices.
Organizational Behavior: This course emphasizes leadership, group dynamics, organizational structure, culture, and technology and the role they play in an international context.
Human Resource Strategy & Development: During this course, students may gain an understanding the importance of sound human resources practices, the environment of HR management, the role compensation plays in motivating employees, and the integral role human resources plays in achieving organizational goals.
Employee Compensation: Students are taught modern compensation systems, strategic planning, pay incentive development, and how benefits and compensation motivate employees.
Strategic Management: This course focuses on providing students with an understanding of the objectives, strategies, and policies relating to an entire organization.
As human resources is so integrated into a business, it may benefit students to learn and understand business principles as well. That's why some online bachelors in human resources degree programs require students to take some business classes such as:
Microeconomics
Macroeconomics
Accounting
Management
Marketing
Benefits of Earning Your Online Bachelors in Human Resources Degree
Earning your human resources bachelors degree online may be the perfect option for you because of the number of benefits online learning offers. For instance, no longer will you have to commute to campus, sit in traffic, and then search for a parking spot. Not only will this save time, but also money. Plus, many institutions offer online students the freedom to pick and choose when they log on and complete their required coursework.
What Human Resources Bachelors Students Do
Students pursuing an online bachelors in human resources degree are typically taught the fundamentals of how important a human resources department is the overall success of an organization. Most bachelors degree programs teach students how to:
Consult with employers to identify employment needs.
Interview applicants about their experience, education, and skills.
Contact references and perform background checks on job applicants.
Inform applicants about job details, such as duties, benefits, and working conditions.
Hire or refer qualified candidates for employers.
Conduct or help with new employee orientation.
Keep employment records and process paperwork.ii
Evaluate information to determine compliance with standards. 
Fix conflicts and negotiate with others.
Communicate with supervisors, peers, or subordinates.iii
Certification in the Field of Human Resources
HR professionals may choose to pursue a certificate in the discipline. Pursuing a specific or general certificate in HR may help you build and validate your skills, differentiate yourself in a competitive job market, and broaden your potential career paths.
Following are some of the common credentialing agencies for professionals in the field of human resources:
The Association for Talent Development (ATD) which offers the Certified Professional in Learning & Performance (CPLP) program;
The Society for Human Resource Management (SHRM) which offers two certificates: the SHRM Certified Professional (SHRM-CP) and the SHRM Senior Certified Professional (SHRM-SCP);
The HR Certificate Institute which offers seven options for certification; 
World at Work which offers eight certificates in five areas of human resources;
The International Foundation of Employment Benefit Plans which offers a series of eight certifications; and
The International Society for Performance Improvement (ISPI) Certified Performance Technologist (CPT).
Additional Certifications for Human Resources Bachelors Degree Students
There are many different certifications that can help students pursuing their bachelors in human resources degree. While these are optional, earning them can be important to show prospective employers professional expertise and credibility. Also, these are completely independent and in addition to earning your human resources bachelors degree.iv
While there are many different certifications to earn, some of the most common include from these institutions and organizations:
Society for Human Resource Management (SHRM)
Human Resources Certification Institute
World at Work
International Foundation of Employee Benefit Plans
Possible Careers for Online Bachelors in Human Resources Degree Graduates
According to the Society for Human Resources Management, in 2012, there were 1.54 human resources professionals for every 100 employees. That was up from 2009 when there were only 1.24.
That's consistent with the expectations from the United States Bureau of Labor Statistics (BLS). For instance, the BLS expects the number of human resources specialists to rise 5% during the years 2014 to 2024. That number increases to a 7% rise for business operations specialists.v
As employees climb the corporate ladder, job prospects often only continue to increase. The BLS predicts a 9% rise in the number of Human Resources Managers over those same ten years and a 7% rise in the number of Operations Specialists Managers.vi
Fun Fact:

When looking at employers, 3 things matter most to Millennials. . . 1) growth opportunities, 2) retirement benefits and 3) work culture.
Pursue Your Online Bachelors in Human Resources Degree
When deciding to pursue your online bachelors in human resources degree, its important to research individual school and programs. That's the only way you'll get a feel for whether or not a school is the perfect match for you. Click on any of the sponsored listings on this page to learn more about the individual schools, curriculum, and which is most in your wheelhouse: Is it a B.A., B.S., or a B.B.A? Learn more about online bachelors in human resources degree programs today!
---
[i]bls.gov/ooh/business-and-financial/human-resources-specialists.htm#tab-4 [ii] bls.gov/ooh/business-and-financial/human-resources-specialists.htm#tab-2 [iii] onetonline.org/link/summary/11-3121.00?redir=11-3040.00 [iv] bls.gov/ooh/management/human-resources-managers.htm#tab-4  [v] bls.gov/ooh/business-and-financial/human-resources-specialists.htm#tab-6 [vi] bls.gov/ooh/management/human-resources-managers.htm#tab-6