How to Earn an Online Doctorate in Human Resources Degree
Students can earn an Online Doctorate in Human Resources Degree in a certain concentration that can range from leadership, business administration, or organizational behavior. Human resources doctoral students are instructed in how to assess various HR issues and develop skills in conducting research. Students also may learn the nuances of moral and ethical decision-making. Whatever students' individual goals, online doctoral degree programs in human resources may prepare them to understand organizational behavior and the influences people have within businesses and organizations.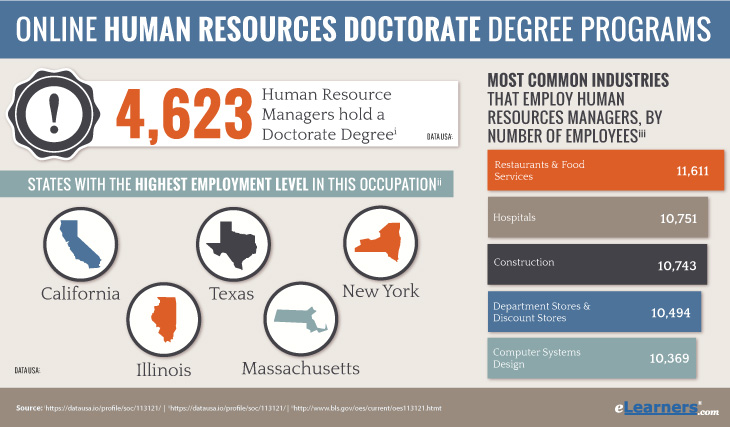 Fun Fact

In 2012, US employers had a median of 1.54 HR professionals for every 100 employees, up from a low of 1.24 in 2009.
Types of Human Resources Doctorate Degrees
Human resources and organizational behavior cover a lot of ground. Therefore doctoral degrees come in a wide variety of titles. Leaderships programs focus more on the ability to assess organizations through research and evidence. While business-oriented programs focus more on providing details on how to leverage human capital to achieve an organization's goals and objectives. Some of the different degree titles include the following:
Online Doctor of Philosophy in Organizational Development and Leadership - Corporate Training and E-Learning
Online PhD in Human Resource Management
Online DBA (Doctoral of Business Administration) – Human Resource Management
Online PhD in Organizational Leadership – Human Resource Development
Online PhD in Organizational Behavior and Human Resource Management
Difference Between DBA and PhD. Human Resources Degrees
Another aspect to consider when deciding on an Online Doctorate in Human Resources Degree is whether to pursue a DBA or a PhD. A Doctor of Business Administration (known as a DBA) may be more focused on the business aspect of human resources. Whereas a Doctor of Philosophy (or a PhD.) is usually more tailored to theories and research. Both degrees are academically equivalent and both require rigorous courses of study. Students will also have to defend a dissertation to complete this online doctorate in human resources degree program.
Common Curriculum to Earn an Online Doctorate in Human Resources Degree
Common courses you may take while pursuing your doctorate in human resources management degree may include some of the following.
Research Methodologies: These courses introduce quantitative and qualitative frameworks including correlation, survey, case studies, grounded theory, and more. What are the overall frameworks? What does the data say and how do we interpret it?
Strategic Management: In strategic management courses, students may learn how to strategize by using Human Resources models. Class work also typically covers how to create plans for employee recruitment, employee selection, and overall talent acquisition. These courses also teach students how to increase employee engagement and productivity by getting workers more enthusiastic and involved.
Behavior Systems & Management Thought: This course addresses the evolution and development of management theory. It puts a particular emphasis on the design of behavioral systems in organizations.
Seminar in Organizational Behavior: Students are taught the basic topics in organizational behavior. These include issues such as person to organization interactions, employee motivation, and employment relationships.
Organizational Behavior & Human Resources Workshops: This course gives students hands-on experience in the development, design, and execution of behavioral science research such as issues that management may have to deal with as well as a company's processes.
Organizational Theory & Design: During this course, students are taught varying organizational theories and structures. Organizational Theory and Design also covers how internal and external environments, time, and organizational life cycles can impact companies and institutions.
Group Behavior: Course work in Group Behavior discusses how people, teams, and organizations influence human exchanges and people's thought processes.
Moral & Ethical Foundations of Decision Making: These classes reveal different theories of ethical decision making. This is done through critical analysis of case studies that focus on the role that leaders play in shaping the vision, mission, and activities of organizations.
Negotiations & Conflict Resolution for Contemporary Leaders: This course explores the theories, policies, and approaches necessary for conducting successful negotiations and resolving conflicts in the workplace through a series of complex cases.
Leadership – Diversity & Social Justice in Complex and Global Organizations: This course places special emphasis on the leader's role in addressing the needs of a diverse workforce in the challenging global economy. It also investigates prominent issues facing diversity as well as cultural, economic, and political differences in the workplace.
Dissertation Defense: Normally a Dissertation Defense is a requirement to graduate with a doctoral degree in human resources management. Students may have to create a written dissertation proposal on a topic of their choosing and defend that proposal in front of a committee of faculty.
Course work for an Online Doctorate in Human Resources Degree will always differ between schools though. So be sure to verify what classes are offered before you narrow your choices down to one school.
Additional Human Resources Certificates to Consider
For those considering an online doctorate in human resources management degree, earning a certification may be an additional way to enhance your career. These are completely voluntary. Yet,in addition to your PhD. or DBA in HR management or organizational behavior, certification may become more important as you gain more education and experience. These certificates can be a mile marker of professional experience and credibility. Also, many employers prefer certified candidates. At other times, certifications may be required.
Some of the credentialing agencies for professionals in various areas of human resources include the following:
The Association for Talent Development (ATD) offers the Certified Professional in Learning & Performance (CPLP) program
The Society for Human Resource Management (SHRM) offers two certificates: the SHRM Certified Professional (SHRM-CP) and the SHRM Senior Certified Professional (SHRM-SCP)
The Human Resources Certificate Institute offers seven options for certification
World at Work offers eight certificates in five areas of human resources
The International Foundation of Employee Benefit Plans offers a series of eight certifications
The International Society for Performance Improvement (ISPI) Certified Performance Technologist (CPT) is a way for professionals to show their proficiency.
Fun Fact

The average length of an interview is 40 minutes, but 33% of bosses know within the first 90 seconds if they will hire a candidate.
After Earning Your Doctorate in Human Resources Degree
According to the United States Bureau of Labor Statistics (BLS), human resources professionals who work as HR managers, HR specialists, training and development managers, or compensation and benefit managers may only need a bachelor's degree to enter the field. Therefore, some professionals who have a PhD in human resources opt to pursue careers as post-secondary teachers, human resources consultants, or high-level executives.
The BLS also reports that the number of employed human resource managers is expected to rise 9% in the years from 2014 to 2024. This is because many organizations will turn to outside firms to assist with human resources functions. Candidates with certificates or a Masters degree or higher, as well as work experience and a solid background will have the best prospects, according to the BLS.
Pick Your Online PhD. in Human Resources Degree Program
To choose an online doctorate in human resources degree, or a PhD. in Organizational Behavior, click on any of our sponsored listings. Get more details about individual schools, their online doctoral degree programs, and the curriculum they offer. Directly contact the school and request more information to find the perfect match for your goals for the future. 
---
[i] nces.ed.gov/pubs2009/2009044.pdf [ii] bls.gov/ooh/management/human-resources-managers.htm#tab-4 [iii] bls.gov/ooh/business-and-financial/human-resources-specialists.htm#tab-8 [iv] bls.gov/ooh/management/human-resources-managers.htm#tab-6