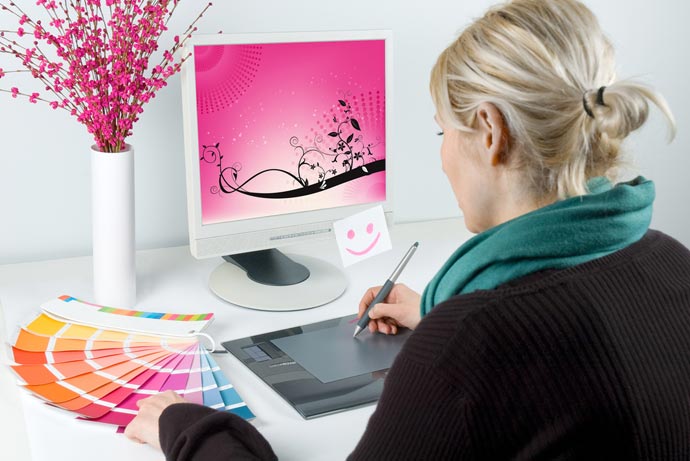 The Basics on How to Become a Graphic Designer
Are you investigating how to become a Graphic Designer? Then you certainly should know the basics of the career. The main job of a Graphic Designer is to design or create graphics to meet specific commercial or promotional needs, such as packaging, displays, or logos. They do this by utilizing knowledge of layout principles and esthetic design concepts. They apply this knowledge to accomplish things such as determining the layout of images and copy and selecting the style and size of type. 
According to the Bureau of Labor Statistics, it is typical for a graphic designer to have a bachelor's degree in graphic design or a related field. Candidates in this field should also showcase their creativity through a professional portfolio that features designs they have worked on. A portfolio is also important for graphic designers looking to work as freelancers. According to the BLS, in 2018 about 1 in 4 graphic designers were self-employed!
What Are Hurdles to Becoming A Graphic Designer?
Need a portfolio to become a graphic designer but have 'no experience'? Rethink your options.
The words "portfolio required" used to daunt me. Starting out, I felt like I didn't have anything of note until a mentor asked me about some of my course projects, volunteer work, and even my hobbies. I had helped with a literary magazine's layout in college, been part of the team to put on a gaming convention, and sent off emails to solicit donations for a charity auction. Suddenly I had samples of graphic design, event promotions, and an email marketing campaign. I had the portfolio I needed.

Click To Tweet!
- Gwendolyn Kestrel, Digital Analyst @ Hotel Marketing Works
What Are the Most Important Decisions Graphic Designers Make Every Day?
As a graphic designer, I have to make design decisions all of the time that affect our clients marketing efforts. One of the tougher decisions that I have to make as a designer is the look of a graphic for a simple online sale. The reason being, is when I design a new sale banner, I have to make buttons bright or bold so that users know where to click. While this might not make for the most aesthetically pleasing piece of "graphic art", the graphic needs to do one job, lead to a sale. At the end of the day if my designs can lead to conversions, then I am successful.

Click To Tweet!
- Sarah Yeager, Lead Web Designer @ 216 digital
A Graphic Designer's Salary Potential
Lowest 10th%
$30,810
Median
$52,110
Highest 90th%
$89,210
States with the Highest Employment Levels
| STATES | 2018 ANNUAL MEAN WAGE | NUMBER OF JOBS |
| --- | --- | --- |
| California | $63,710 | 29,060 |
| New York | $66,870 | 21,090 |
| Texas | $52,050 | 14,050 |
| Florida | $49,850 | 13,830 |
| Illinois | $58,450 | 11,700 |
How Do Your Skills Stack Up?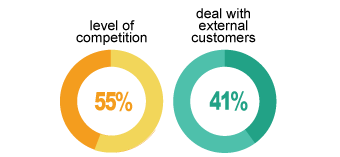 As reported by O*NET, these traits are ranked as either extremely or very important to the day to day life of a Graphic Designer[i]
What You Will Learn With a Graphic Design Degree?
Interested in a bachelor's degree in graphic design? Schools that offer this coursework, usually feature graphic design classes like these:
Graphic Principles
Color Theory
Typography and Page Layout
Photography
Art History
From designing print materials and packaging to creating interactive media and websites, graphic design careers can be remarkably diverse. Undergraduate graphic design programs typically offer courses that help students discover the technical and creative skills they'll need in this field. You'll likely find courses in computer graphics and digital design, design theory, typography, branding, and much more. Plus, schools may offer studio art, photography, and other courses to exercise artistic talents. Finally, you may find courses that help you understand practical applications for design, like advertising and digital publishing.
Who are some Influential Graphic Designers?
As reported by Complex Media, a few of the top 20 Graphics Designers you should know are:
Paula Scher: In the 70s and 80s Paula designed over 150 album covers per year for CBS Records. Since then she has designed graphics for Target, Tiffany & Co. and Bloomberg among many others. She received a bachelor's degree in fine arts from the Tyler School of Art
Michael Bierut: Worked with Guitar Hero and Saks Fifth Avenue, earned a design degree from the University of Cincinnati's College of Design
Cipe Pineles: Former Art Director for Glamour magazine, studied at the Pratt Institute
Massimo Vignelli: Designed graphics for Bloomingdales and American Airlines, studied architecture at the University of Architecture in Venice
Job information sourced from O*NET
FAQs About How to Become a Graphic Designer
What is the average graphic designer salary?
What general knowledge should a graphic designer posses?
What are common types of software I would have to learn as a Graphic Designer?
What are detailed work activities performed as a Graphic Designer?
How many graphic design firms are there in the U.S.?
What job titles are similar or the same as a Graphic Designer?
What professional associations might a graphic designer be interested in?