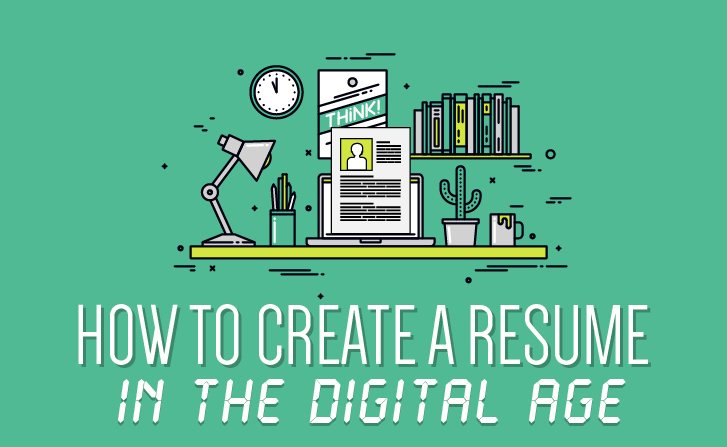 Forget your standard paper resume and that trite goal statement of 1996. If you want to create a resume that will jumpstart your career in 2017, you need to think viral, virtual, and versatile.
In this article, we'll discuss how to create a resume for the digital age perfectly, including utilizing social media and video content to bring your resume into the 21st century. Design A Modern Resume Traditional resumes were designed to be readable but plain, easy to fax or copy. The modern employer, however, is more likely to view your resume on a screen, which means you can take advantage of the ability to present a more eye-catching and visually impressive design. That doesn't mean your resume needs to be a work of art. A streamlined layout with strong fonts, clear organization, and a pop of color is always a great way to go, as long as your resume leads readers easily down the page and highlights the most important information. There are highly-rated resume-builders you can use to make an ideal resume for today's marketplace. Choose a Stand-Out Design A good design is one that looks modern, professional, and appropriate for the job you're applying for. It may be a good idea to study the psychology of color to help you decide what color schemes will draw your employer's eye. Remember, when you're creating a resume, what you're really doing is marketing yourself to potential employers. Keeping that in mind can help you create a resume to give the best possible impression. Focus on Accomplishments, Not Skills Showcase your major achievements instead of just listing what you're good at. While the job may require you to know Microsoft Office, listing this as a skill is not going to set you ahead of the pack. Employers are far more interested in what you've accomplished with your skills. Using numbers can also add weight to each bullet point on your resume. For example, managing 50 people is more impressive than managing a team. What if the job requires specific qualifications? Then, it may be appropriate to add your skill set in order to show you've read the job posting closely. Don't fret if you don't meet every single one--most employers publish what's known as a "wish list" of skills, but are willing to go with a candidate they think can get the job done. Make Use of the Space Dense resumes are hard to read, and thus more likely to be rejected. Having a good amount of white space on the page makes it easier for a hiring manager to read and directly improves the chance of making a good impression. Employers are more likely to pay attention to the top third of a resume [i]. The best use for this space include your most notable accomplishments, the skill you think is most valuable, and your basic contact information. While many traditional resumes suggest an "Objective" listed as front and center, in the digital age objectives have become less common. Your resume is about marketing yourself, so the objective should be implied in your resume or stated in your cover letter. LinkedIn: Let Social Media Work in Your Favor Googling during the job hunt works both ways! Employers have been known to use both search engines and social media to find and cull prospective candidates. LinkedIn is a great website where you can create a positive, job-friendly social media presence. You've probably heard of it, but is it something you're taking full advantage of? 89% of recruiters hire people from LinkedIn [ii], and that's an opportunity you can't afford to waste! Here are a few tips to make the most of your LinkedIn profile:
Fill out all relevant information, particular work history and ALL of your skills, as this will make you 13 times more likely to get looked at. [iii]
Use a professional-looking profile photo, as this makes you 14 times more likely to be looked at by employers. [iv]
Add anything of value. LinkedIn makes it possible for you to post materials other than your resume, like links to blogs, podcasts, etc. If you have recently created an amazing presentation or video, you may be able to post this as well.
  Create a Resume with Video to Showcase Yourself and Your Work The job market is tough. Sometimes for the right job, you have to pull out all the stops and do the extreme. If you make a video you are letting your employer know that you not only understand how to use technology, but also how to market something, namely yourself. Resumes in video format aren't very common, despite the fact that video content is increasingly popular: it makes up more than over 50% of all mobile traffic, and could be as much 75% in the next five years [v]! If you make your video correctly, your prospective employers will appreciate your originality, and this edge may possibly land you the job. Get creative, and think beyond YouTube or Vimeo! Why not use Vine to make a short, creative Vine resume? Not sure how to make your video resume unique? Scour the web for inspiration. One man, from Holland, posted a "mock confessional" YouTube video, specifically about what a workaholic he is. Depending on your skill set you may use humor, animation, or just your best friends speaking on your behalf! Another candidate used a straightforward but fun, brief video with moving informational icons and music. Some people have the expertise to make cutting edge, cinema-quality videos, but that's not necessary for everyone. As long as the video reflects who you are and telegraphs the qualities you can offer to the employer. Remember to showcase your personality, all of your relevant skills, and experience━just like on your printed resume! If possible, highlight a recent project you've finished. You are not only selling your skill set, but are selling yourself as an employee in a way you could never do with a traditional resume, so use your voice and body language effectively. A video resume can also help prepare you for the video interview. Many employers are increasing their use of video interviews to screen potential candidates [vi]. As you create your video resume, it is important to make a list of the questions you will most likely be asked by an employer. By reviewing and running back the footage, you can troubleshoot areas where you paused, or sounded unsure of yourself. So, now that you have the tools to create a resume for the digital age, what are you waiting for? Once you have a career in mind, it's time to start putting yourself out there to pursue your dream job.
Sources: [i] vault.com/resumes/article/writing-the-resume/the-top-third-of-your-resume | [ii] socialmeep.com/infographic-the-social-recruiting-pocket-guide/ | [iii] blog.linkedin.com/2014/10/16/your-skills-are-your-competitive-edge-on-linkedin | [iv] blog.linkedin.com/2015/08/13/celebrating-leadership-linkedin-power-profiles-2015-in-india | [v] reelseo.com/2020-mobile-video-traffic/ | [vi] hr.sparkhire.com/best-hiring-practices/companies-use-video-interviewing-more-than-you-think/