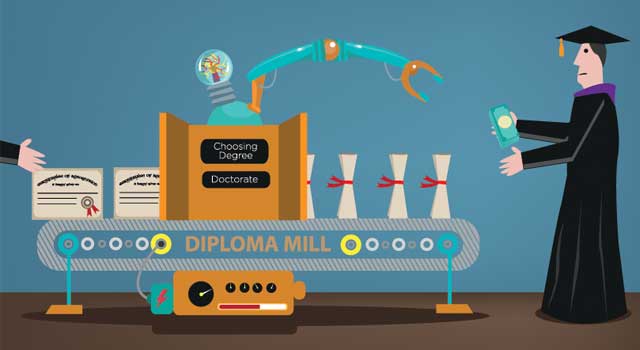 What do you need to know about degree and accreditation mills that try and take your money and leave you with bogus degrees?
Along with students who choose to earn their college degrees from legitimate online colleges, there are degree scams and fake diplomas that threaten to take advantage of students who want to learn online, but who don't recognize the scams.  What can you do to avoid being educationally taken advantage of?
According to the National Center for Education Statistics, from 2000-2008, the number of students enrolled in an e-learning program increased from 2-4%. The amount of undergrad students who took at least one online class rose from 8-20%. With this growth in online education, scammers are out there looking for ways to prey on unsuspecting e-learners.[i]
Types of Degree Scams. Diploma mills, accreditation mills, and life experience degrees are all examples of degree scams.
Diploma Mills. Diploma mills are bogus schools that sell fake diplomas. They are unaccredited by legitimate accrediting agencies and are sometimes supported by accreditation mills. There are generally two types of diploma mills, a.k.a. fake schools:
Diploma mills that pretend to be a legit school
Diploma mills that outright sell degrees for cash
Accreditation Mills. Accreditation mills are organizations who allegedly provide higher ed accreditation to diploma mills that pay them for their services. They are not able to grant authentic higher ed accreditation because they are not recognized by the U.S. government or by mainstream academia.
Life Experience Degrees. While you may be able to earn a limited amount of credits (for professional certifications or licenses, for example) that might add up to a few classes, you cannot earn entire degrees based on "life experience." Therefore, if an organization states that you can earn a bachelor's based on your prior life experience, do not give out any personal or credit card information.
Signs of Fake Degree Mills or Higher Ed Scammers
School's address is a P.O. Box or non-existent with only a contact form on the website
Website has no phone number
Tuition cost is a flat rate for a degree, instead of per credit hour or per class
Little or no interaction with professors
Names that sound similar to legit universities
Claims are too good to be true
Online sites, blogs, and forums say negative things about the "school"
Promises a degree in no time e.g. 30 days
Discounts are available if you enroll in multiple degree programs
Offers entire degrees for life experience
"School" has no .edu Internet address
School is accredited by an organization/accreditor that is not approved or recognized by the U.S. Department of Education or the Council on Higher Education Accreditation
Only need credit card to "get in"
Better Business Bureau doesn't have good things to say about the "school"
School or company is in another country
Degree can be earned by faxing your resume to the "school"
Consequences. The consequences of earning a "diploma" from one of these fake schools may be dire. You could set yourself up for credit identity theft, you could lose your job if your employer discovers your degree isn't legit, or you could face fines. It's not worth it.
Online Accreditation Verification Services. Visit the U.S. Department of Education or the Council for Higher Education Accreditation (CHEA) to find out if a school you are interested in is accredited. There are also online resources that delve into accreditation and why it's important.
*Remember, though, that just because a school is listed as accredited does not mean that they are always legit. Keep researching to be sure.*
Report Fraud. If you are scammed, report the fraudulent organization . Visit the Internet Crime Complaint Center, notify the Better Business Bureau, let online forums know how you were scammed, and/or write a blog post about your experience to warn others.
There are numerous legit online schools. Don't let a bad experience with a bogus school keep you from earning your online degree.