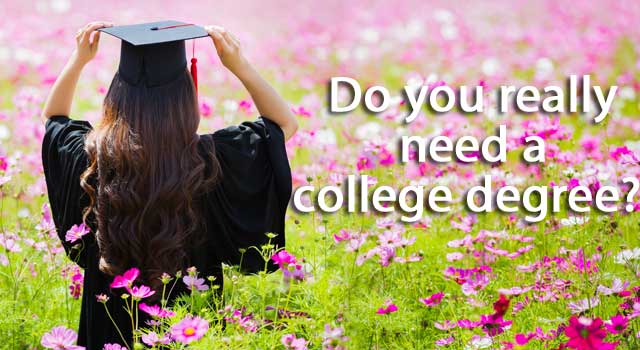 Original by Pamela Rossow and Edited by Josepf Haslam
Do you really need a college degree? In today's competitive job market, employers may screen potential employees based on their educational attainments.
In many professions, a higher degree usually show employers that you have certain skills and abilities. In the market of high-paying, in-demand jobs, most employers require at least a Bachelor's degree. But it's not just about getting a job. Your ultimate goal is a career in which you might advance over time—like gaining promotion to higher positions, receiving better benefits, or increasing your salary. And the numbers don't lie—college graduates are often more successful when it comes to earnings than high school grads.[i]
The cold, hard truth is that for many of the truly lucrative and satisfying careers out there, a college-level degree may be necessary just to get in the door.
Set your goals. It's up to you to discover which profession you want to pursue. No matter how much you think you know about your career goals, making a list is often a first step and a visually helpful way to see your employment options.
Below is a list of the 20 fastest-growing jobs in the United States.[ii]  
The jobs that require a Bachelor's or other post-secondary degree—like an Associate's or PhD—are in bold print.
Personal Care Aides
Home Health Aids
Biomedical Engineers
Helpers—Brickmasons, Blockmasons, Stonemasons, and Tile and Marble Setters
Helpers—Carpenters
Veterinary Technologists and Technicians
Reinforcing Iron and Rebar Workers
Physical Therapist Assistants
Helpers—Pipelayers, Plumbers, Pipefitters, and Steamfitters
Meeting, Convention, and Event Planners
Diagnostic Medical Sonographers
Occupational Therapy Assistants
Physical Therapist Aides
Glaziers
Interpreters and Translators
Medical Secretaries
Market Research Analysts and Marketing Specialists
Marriage and Family Therapists
Brickmasons and Blockmasons
Physical Therapists
Each of these professions is anticipated to experience the highest rise in employment through 2020, according to the Bureau of Labor and Statistics. As you can see, many jobs on the list that have the word "Aid," "Helper," or "Assistant" in it, do not require higher education degrees. It doesn't mean that they aren't good jobs. However, if you want to jumpstart a career that might have more upward mobility, a college degree may be the way to go.