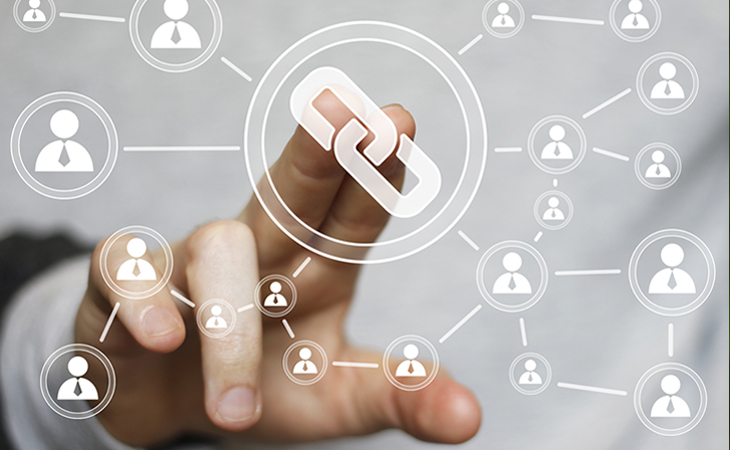 Calling all entrepreneurs! Wondering how to use LinkedIn* for business growth—whether it's expanding or creating your client base? If so, you've come to the right place. 
Getting started with small business marketing can feel daunting, but it doesn't have to be. Reaching out to new or existing contacts on LinkedIn can be a great way to get the word out about your company. It's just a matter of figuring out the best way to go about it. And that's where we come in! Let's take a look at how to reach out to prospects and current clients on LinkedIn and other creative ways to help you grow your small business.
Using LinkedIn to find potential clients
If you're wondering how to use LinkedIn effectively to attract prospects, you're not alone. People tend to be hesitant about connecting with people they don't know, but if you want to build your client base you might need to do just that! A great place to start when looking for potential clients is with LinkedIn's advanced search feature. Once you've entered relevant search terms, you can filter results by company size, position, connections, location, industry, and more to help you connect with the correct audience. And if you have the funds to sign up for a premium account, you can narrow things down even further with filters for groups, seniority levels, and job functions. Another option is to take a good hard look at your current friends to see if they are connected with any potential prospects. Odds are you're already connected to someone who could be of help! The bottom line is that you want to do everything you can to help ensure you're making quality contacts who can really benefit from what your business has to offer.
Reaching out to companies vs. individuals 
So you've done your searches and have your list of potential contacts. You may be wondering if it's better to reach out to a company or an individual. If you have a solid contact within a company, that's preferable because it eliminates the need to do more digging to find the right person to speak to. Remember, the more targeted you are, the more likely you may be successful. If you don't have a specific contact that just means you have to do some extra research such as looking up the company website, or looking into the profiles of company employees to find the right person to contact. If you're on a company page on LinkedIn, look for the "How You're Connected" box and click "See all" to get a listing of all the profiles of company employees—and target the people who are most relevant to your business. Then it's a matter of reaching out by sending an InMail or by adding them as a connection to message them directly. If you're fairly confident that the person you're messaging could be a prospect it may make sense to try and add them as a connection as an opener to the conversation.
Initiating contact without looking like spam 
Let's be frank; nobody likes spam. And for good reason! Whether you're reaching out to an existing contact that you're hoping to turn into a client or if you're making a new person, the key is to personalize your message. Being generic is a sure-fire way to be ignored. It can be tempting to create a template to send out to multiple prospects, but please resist the urge! People need to feel like you're being genuine when you reach out, and it's easier than you think to spot a generic message. It really is worth taking the time to show you put some thought and effort in. To that end, here are some tips to keep in mind when putting together your email:
Greet each prospect by name
Be short and sweet
Indicate the value you have to offer in 1–2 sentences
Show you've done your research
Let your personality shine through
Basically, you have a very brief amount of time to make your case, so don't waste it. It's your job to effectively communicate how your small business can benefit prospects and convince them it's worth it to learn more. At the same time, you want to come across as an actual person and not someone who's just trying to sell something. Once you've made initial contact and potential customers have expressed interest, you can ask them about a phone call or meeting to discuss opportunities to work together in the future. 
Here is an example of a prospecting message that takes advantage of a mutual connection as an opener:
Dear Jane,
I noticed that we share a mutual connection in Dan Jones, one of my long-time clients, and thought this may be a good opportunity to connect. 
 
I recently read that your company has branched out to provide event planning services to your corporate partners. I am the owner of a catering business with more than 10 years of experience in preparing delicious, healthy, gourmet cuisine for corporate events—even specialty cuisine like gluten-free! I am reaching out today to see if you'd be open to discuss the possibility of working together in the future.
I hope to hear from you soon!
Best,
Karen Smith 
Marketing on LinkedIn 
When it comes to small business marketing, one of the most important things you can do is make sure that your LinkedIn profile is complete and easy to find. While you're busy reaching out to potential clients, optimizing your profile is a great way to help new clients come to you! Think about the keywords that your target audience may look for when searching for business opportunities and add them to the title and summary sections of your profile. While you're at it, make sure that your summary section clearly states your company's unique selling proposition in a compelling way that sets you apart from your competition. It's also a good idea to include photos/videos that highlight your products or services. And make sure you link to your company website! (You do have a company website, right?)
Another thing you may want to consider, if you have the budget, is taking advantage of some of the paid marketing opportunities offered by LinkedIn to build your brand and raise awareness:
Sponsored content: Promote your business's content to drive more leads to your page
Sponsored InMail: Send highly targeted messages with a 100% deliverability rate
Dynamic ads: Display highly-customizable ads directed at your target audience
Text ads: Set your own budget with pay-per-click or cost-per-impression ad options
We can't talk about marketing on LinkedIn without mentioning the value of content marketing. Publishing engaging content can be a great way to illustrate your knowledge and expertise in the field and build credibility. Basically, you want to position yourself as a thought leader in the industry. LinkedIn offers access to its Pulse publishing platform, which allows you to post articles and blogs directly to the site. Posting timely and relevant content can be a great way to really engage your existing client base—and spark the interest of new prospects. It's a win-win! Some things to keep in mind when posting content include:
Only write about your areas of expertise/specialty.
Try to focus on one specific topic per post.
Add photos or other visuals to create interest.
Keep the tone relaxed but professional.
Break up the content with subheads.
Provide advice or solve a problem if possible.
Engage commenters and encourage participation.
Other ways to grow your business 
As you can see, LinkedIn can really be an invaluable resource for small business owners. Now that you know how to use networking strategies to build your client base, it's time to look at some other ways you can use LinkedIn for small business opportunities. If you're willing to put in a bit of time and effort to really engage with the platform, you may be happy with the results. Get creative! Why not try:
Joining groups to take part in discussions, build contacts and share your industry know-how.
Posting detailed job listings to attract qualified employees.
Engaging your current customer base with company news, updates, and special offers.
Asking for client recommendations to further build your credibility.
Being a small business owner can be tough. It takes a lot of dedication, patience, and hard work to be successful. But at the end of the day, there's also the satisfaction of pursuing—and following through with—your dream. One thing to keep in mind is that it's never too late to build your credentials by enhancing your education. Whether that means taking a class or earning a bachelor's or master's degree in your field, adding to your knowledge base may help you to build your business. And the good news is that you can study online, so you don't need to worry about your studies conflicting with your busy schedule. It's worth a thought!
 
Click here now to search for sponsored schools and degree programs in your area of interest.
*LinkedIn is not owned, operated by, endorsed by, or affiliated with EducationDynamics, LLC.