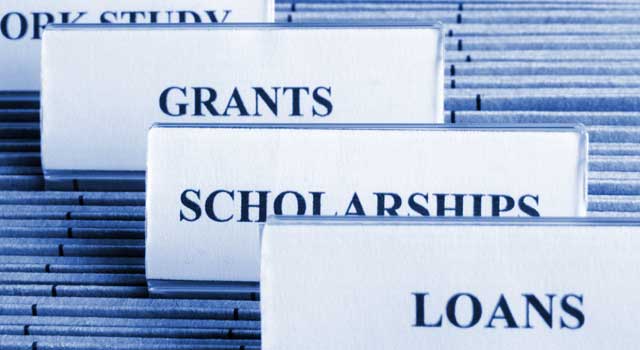 Financial Aid confusion? What is a grant, compared to a loan vs a scholarship?
The world of college applications can be an exciting as well as intimidating time, especially as applicants and their families try to make sense of finding and paying for a college. This article will help you understand the differences between types of financial aid, and provide links to valid resources of information.
Grants, scholarships and loans are funding sources for higher education, but with major differences between them that can affect a student's decision about what types of aid they accept. Beware of websites that charge a fee to find college money. A reputable internet site with many good links is FinAid, a great resource for scholarship searches and information on all types of student aid.
First step always: fill out FAFSA. No matter what you might be eligible for, where you choose to go to school, or types of aid you ultimately decide to accept, you must start with filling out the FAFSA (Free Application for Student Aid). It is the gate-keeping point from which all potential sources of aid will flow. When the results are in from processing your FAFSA, you will be informed of student aid options that may include federal grants and federal loans. You can then go on to pursue other private grants from your college or local organizations, fellowships or scholarships.
Grants - Aid you don't have to pay back.
Determined by financial need, and especially desirable because this type of financial aid does not have to be paid back. On the FAFSA you are asked to indicate interest in work study and loans. Checking yes to those options does not affect the amount of grant money you can receive, and you will be able to decide at a later about any options you qualify for.
Pell Grant For students working toward a bachelor's degree with exceptional financial need. Up to $5,500.
Academic Competitiveness Grant Eligible for Pell Grant and enrolled at least half-time. High school graduate after Jan. 1, 2005 from a "rigorous program of study." First year: $750, second year $1,300.
Federal Supplemental Educational Opportunity Grant (FSEOG) Exceptional financial need and working toward a bachelor's degree. Up to $4,000.
National Science and Mathematics Access to Retain Talent Grant (SMART) Eligible for Pell Grant and enrolled at least half-time during 3rd or 4th year, minimum GPA 3.0. Major in; physical science, life science, computer science, engineering, technology, mathematics, or a critical-need foreign language. Up to $4,000.
Teacher Education Assistance for College and Higher Education Grant (TEACH) Undergraduate, post-baccalaureate, or graduate students taking courses for elementary or secondary teaching. Pay back through service agreement; 4 years teaching in a school serving low income students. Up to $4,000.
Loans - Typical Financial Aid. 
Federal student loans are a good way to finance higher education. They have low interest rates, and typically do not require credit checks or collateral. There are a number of deferment options (putting off paying them back until you complete your education), and terms for extended repayment (stretching out loan payments to keep them affordable).
Stafford Loan Subsidized (while in school the government is paying the interest) and unsubsidized (no payments while you are in school, but you do have to pay all the interest). Eligibility for subsidized Stafford loans is based on financial need, with most students who receive this with family Adjusted Gross Income under $50,000. The unsubsidized version of the Stafford is available to all college students.
Perkins Loan Federal dollars dispersed by colleges, the Perkins loan is for undergraduate and graduate students with significant financial need. A subsidized loan, with the government covering the cost of interest while in school and for a 9-month grace period. A low interest rate of 5%, and lack of origination and default fees make the Perkins very sought after.
PLUS Loan (Parent Loan for Undergraduate Students). Loans from from government monies to cover college costs and taken by parents of the student. Graduate students may take out loans in this program also.
Scholarships - Gift Aid.
"Gift aid" that does not need to be paid back, scholarships are available from thousands of sources. Seek a free scholarship database online to search for over 1.5 million college scholarships. Fastweb scholarship search has no charge and is frequently updated.
There are scholarships out there for people in many circumstances, often needing an essay to get in the running. While some scholarships are very competitive, not all of them are for straight-A or high-achieving students:
Academic and Achievement scholarships
Athletic scholarships
Community Service scholarships
Scholarships for students of specific cultural or socio-economic background
Scholarships from particular sponsors (corporations or community organizations)