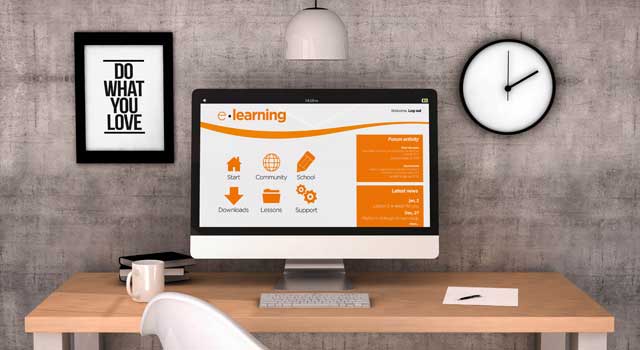 Have you ever wondered what it would be like to earn your degree online from an accredited college?
Are you curious about the stats which reveal that, from 2007 to 2008, about 4.3 million students took an online course?[i] You should be! Below are some of the benefits of an online college degree program.
The Basics
Online college degree programs, as the name suggests, allow you to earn your college degree online. Some colleges offer hybrid classes—where you take a portion of the course online and show up in-person at other times. Other degree programs are earned entirely by e-learning. If you want to learn about online degree options tailored to your interests, click here to fill out our quick and easy form.  EarnMyDegree.com can help you find the degree that's right for you! 
What to Expect
For students who are interested in earning their entire degree via distance learning, they will probably engage in online class assignments and class message boards, and maybe even read online if their professors require e-books over traditionally  expensive textbooks. Communication may take many forms such as emailing, chat rooms, and instant messaging. Social media and technology enable students, peers, and professors to get in touch almost instantly. It may not be uncommon for you to watch podcasts as part of a lecture, view Power Point presentations, or participate in online study jams. You may even be able to accomplish all of this from the comfort of your own home!
You are usually put in touch with an online class manager who will guide you through the process of creating an online profile and username for class discussions. Often, course syllabi are posted online, too, so it is more convenient to just log in to your computer and see what reading assignments or homework you have to do and when you should have it done by.
You're Not Alone
Don't think that just because you have decided to earn your college degree online that you are alone. You're not. In addition to making friends from all over the globe, you should have a strong support network in place in the form of online advisors and professors who are just an email away.  If you need tech support, there is generally a number to call for help. Additionally, because many students who enroll in online college degree programs also work part or full-time, many online accredited colleges understand this reality and have advisors who are able to speak to you when it's convenient for you—whether it is nights or weekends. You might form online study groups with your study buddies who you were introduced to during the first week of online classes.
Student Centered Learning
Earning your degree online may be a great chance for someone who is typically shy to feel confident about participating in class discussions. You also may have the option to set your own schedule. While you might have deadlines, just as you would in a traditional class for certain projects, you may be able to control how many hours you will study per day or where you learn best—in a quiet room or in a local coffee shop.
Perks About Online Education
Online education has many perks and here are some of them:
Short commutes from your bed to your desk
Gas money saved, along with time spent commuting
Additional savings since many times online degree programs may be less expensive than traditional degree programs
Being inter-connected—sometimes even globally
Working full-time while earning your degree
Setting your own learning schedule
Flexibility
Choice—you may select a degree program that isn't offered in your geographic area
Updated course materials
Is Online Education Right for You?
Even after reading about how great e-learning is, it's always a good idea to ask yourself some questions before diving into any endeavor—online college programs included. Here are some questions you should ask yourself  when considering earning an online college degree. 
Are you an independent worker or do you need someone to breathe down your neck?
Do you value working at your own pace?
Are you up for a challenge? Online learning isn't necessarily "easier" than traditional learning.
Are you comfortable with tech basics such as using a computer, sending emails, and joining in during online discussions?
Do you know what your college budget is and will you be applying for financial aid?
Are you interested in public or private online colleges?
Are you familiar with the term "accreditation?"
If you are comfortable answering these questions, then online learning may be a good college fit for you.
Where to Begin?
Keep in mind what activities interest you and which majors you are leaning towards. Make a list of 10 possible online colleges and then narrow it down to 5. Check to see which schools out of the 5 best meet your needs. For example, if you want to finish your degree in 12 months but a program lasts 18, move on. Be sure that each and every school you check out is accredited. When in doubt, visit the U.S. Department of Education and search their online database to see if the college is listed.[ii] Keep track of your progress by using a notebook, Pinterest, or a planner so that your college hunt remains organized and as streamlined as possible.