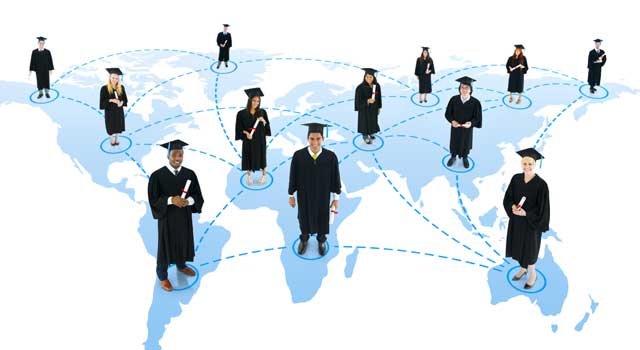 If you are living outside the U.S., you may be able to attend an online program
American degrees are valued all over the world. They offer solid preparation for successful careers in business, law, IT, international relations, and countless other fields. But traveling to the U.S. for several years of study isn't always a practical option. Visa complications, family logistics, and the overall cost prevent many international students from studying in America.
Today, online degrees offer the ideal solution. Many U.S. colleges and universities administer online degree programs, with the same exact courses, instructors, and student support services as their campus-based programs. If you are living outside the U.S., you may be able to attend an online program, and graduate with a highly-respected, U.S. degree.
The following information outlines:
Why American-based study is so worthwhile
How students from other countries can prepare to attend an American-based online college or university
Which online colleges welcome international students and which online colleges restrict international applications
1.The American Advantage: Why American-Based Study Is So Worthwhile
Student-Centric
The American model of higher education is more student-centric than other countries' academic programs. Students are uniquely involved in their course work – from daily participation to long-term projects and group presentations. Personal attention and individualized scholarship make U.S. degrees more relevant than the rote learning and formulaic lecture instruction that's often available abroad.
Valuable Diversity
As an online student of a U.S. college, you'll have the opportunity to interact with a diverse group of classmates. Known as "cohorts," your online classmates will inform your studies and broaden your worldview. Sharing global perspectives, learning to negotiate with new partners, and trying one's hand at international networking are all fundamental exercises in preparing for a 21st century career.
Advanced Degree Preparation
It may be easier to apply for an American MBA or other U.S. master's degree if your bachelor's degree comes from a U.S. college or university – even if you earned it online, from your home country. American graduate schools are more familiar with American undergraduate programs. If you do well as an undergraduate student of an online program, your application to grad school will carry more weight. Your online college can also help you prepare for the American grad school application process.
2.How International Students Should Prepare for an Online Degree from an American University
English Language Proficiency Requirement
Online classes from American colleges are conducted and graded in English. International students must be completely fluent in the English language before enrolling in any American degree program.
If English is not your first language, your online college will ask you to submit a standardized test score that proves your ability to speak, read and write in English. The following English proficiency exams are commonly accepted by U.S. colleges. However, different schools maintain different policies. Before registering for either of the tests listed below, contact an admissions advisor at your school of choice. He or she can tell you which tests are acceptable and the minimal passing score you'll need to achieve.
TOEFL
TOEFL stands for Test of English as a Foreign Language. Developed by a company called ETS (Educational Testing Services), the TOEFL takes approximately 4.5 hours. Test dates, fees, and accommodations vary according to the test center in your area. The TOEFL website lists test locations and registration information for virtually every country/continent.
IELTS
IELTS stands for International English Language Testing System. Like the TOEFL, the IELTS tests students' ability to read, write, speak and comprehend English. Some U.S. schools accept the IELTS, but it's more common for British, Canadian and Australian schools. Unlike the TOEFL, the speaking portion of the test is conducted with a live interviewer.
International Degree Evaluation
In the United States, colleges and universities will only accept students who have graduated from an approved, secondary education program (or what's known as "high school" in America.) Students applying for graduate school (to receive a master's degree or a doctoral degree) need to prove that they also graduated from a bachelor's degree program.
If you completed your secondary education and/or your bachelor's degree outside of the U.S., your online college will need to evaluate your international diploma and/or degree. This is done to ensure that you've completed comparable course work in foundational areas – like math, science, and English composition. Some online colleges will assess your diploma internally, provided that it is written in English and directly supplied by a school or college that is recognized by your country's Ministry or Department of Education. If your academic transcripts are written in another language, or if your institution of study is not widely recognized, you'll need to have your credentials translated and approved by an "accepted credential evaluation service organization."
Approved service organizations are most often members of NACES, the National Association of Credential Evaluation Services. Members of this association are all reputable companies that specialize in evaluating international transcripts. Before contacting NACES, you should speak with an enrollment advisor at your college of choice, and determine exactly what kind of documentation you will need.
Student Visa Limitations
If you are planning to travel to the U.S. as part of your college experience, you should be aware that fully online colleges are not authorized to support student visas. It is assumed that you will study online, from your country of residence.
If you are hoping to obtain an F-1 or J-1 student visa, you will need to find an American college that provides forms I-20 or DS-2019. Some campus-based colleges and universities also offer online courses. So it may be possible for you to obtain a visa and study online from your temporary residence in the U.S.
Early Application Deadline
Most American colleges and universities require that international students submit their applications well ahead of the standard deadlines. The extra time allows school administrators to evaluate your tests and transcripts.
That said, many online colleges offer flexible start dates and rolling admissions, which are open all year long. Ask an admissions advisor to explain semester start dates and application deadlines, as these can vary a great deal from one college to the next.
Tuition & Currency Requirements
If you are not a citizen of the United States, you are not eligible to receive federal financial aid from the U.S. government. Although private scholarships are sometimes available through professional organizations and the colleges themselves, these are difficult to secure. Do your scholarship research well ahead of time. Be sure to compare the price tags of several different colleges before you enroll.
You may be asked to provide evidence that you can pay for the full degree, before you are admitted. Even though tuition is due at the start of each semester, colleges need to be sure that students have the resources necessary to complete the degree program. Students who drop out before graduating reflect poorly on the school name. Also, it's more difficult for financial aid departments to assist students outside of U.S. borders.
Usually, tuition is payable in U.S. dollars only. (Exception: some universities allow students from Barbados, Canada, Cayman Islands, Jamaica, or Mexico to pay tuition in their home currency.)
Reliable Internet Access
As an online student, you will need fast, reliable Internet access. You will often be asked to download files or podcasts. If your computer is too slow, you'll have trouble completing assignments. Most online colleges recommend a data transfer rate of 56K (kilobits per second.) If you need help understanding data transfer rates and specific technical requirements, contact the admissions advisor at your college of choice.
3.Which Online Colleges Accept International Students and Which Colleges Don't
Not every college accepts international students. Some American-based online colleges will only accept students who are living in the U.S., Puerto Rico, Guam, and the U.S. Virgin Islands. Often, these schools will accept Canadian students from select geographic areas. (Canadian students should contact an enrollment advisor to determine if they qualify.)
These schools either do not recognize diplomas from non-U.S. schools and colleges, or they offer very specific career training that is focused on professional licensure in the United States. The curriculum they offer may not be relevant to students who live outside the U.S.
On the other hand, many online colleges welcome students from around the globe, so long as they complete the requirements noted above. Larger online colleges and universities tend to be more accepting of international students simply because they have more resources to process international applications.