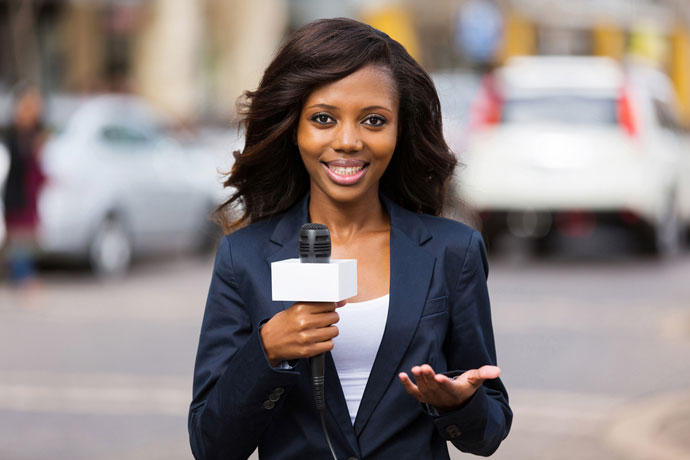 The Basics of Becoming a Reporter
If you are looking up how to become a Reporter or Broadcast News Analyst, there are some things you should know first. The main job of a Reporter may vary depending on the media the Reporter works for, but in general, they analyze and interpret newsworthy events. A reporter who works for a TV station would inform the public about international, national and local news through televised broadcasts, while a print reporter would write about the stories for a newspaper, magazine or website.
A reporter will receive assignments from an editor and then gather information about the news topic through research, interviews, and observation. It is important that a reported does enough research to provide complete and accurate information.
In general, most Reporters / Broadcast News Analysts have a bachelor's degree in communications or journalism. Others may have degrees in English or political science. Some may also have master's degrees in journalism or communications.[ii]
What should your resume look like? What other skills are necessary?
If you can't get a internship at a local TV station, look into creating something with resources available to you at school or reach out to someone like me who could help you create one. I suggest creating your own website and use it as your resume. Don't only include your video, but also your education, credentials, experience, and professional social media channels. The chief photographer at WTVJ in Miami told me I got the position over another candidate because I was better at editing video. So, learn it all - in front of the camera and behind the camera. It will be a deal breaker if you aren't well rounded.

Click To Tweet!
- Christina Nicholson, Owner of Media Maven and More
Advice for Aspiring Reporters
While I think a case might be made for "getting the story right" (telling the truth), there is something even more basic: Committing to the job of finding stories worth telling. In other words, everyday great reporters should remind themselves of the importance of their work to maintaining a decent society.Click To Tweet!

Yes, many stories will be assigned by the editor. In this case, the reporter has to carry out the assignment. But always, there are other stories--sometimes ones close to being invisible or perhaps seeming "too big"--that won't be told unless the report is committed to playing the reporting role. Click To Tweet!


- Murray Suid, cofounder of MobileMovieMaking Magazine

 
A Reporter or Broadcast News Analyst's Salary Potential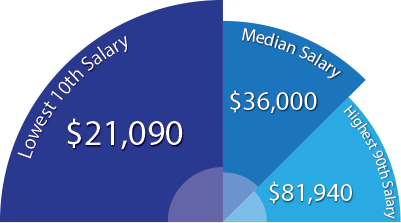 [ABOVE] National Mean Salary for a Reporter or Broadcast News Analyst [iii]
Top States with the Highest Salary Averages[iv]
| State | Lowest 10th% Salary | Highest 90th% Salary |
| --- | --- | --- |
| Rhode Island | $31,490 | $83,990 |
| Alaska | $31,200 | $64,180 |
| District of Columbia | $30,050 | $123,870 |
| Hawaii | $27,260 | $79,910 |
| Massachusetts | $26,190 | $84,590 |
How Do Your Skills Stack Up?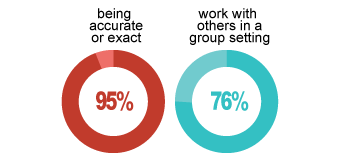 As reported by O*NET, these traits are ranked as either extremely or very important to the day to day life of a Reporter/Broadcast News Analyst [i]
What You Will Learn With a Journalism Degree?
Exploring bachelor's journalism degree program? Schools that offer this program, usually feature basic journalism degree courses like:
News Reporting & Writing
Global Journalism
Feature Writing
Ethics in Journalism
Digital & Media Literacy
Journalism connects readers to the world at large, so it's no surprise that a bachelor's degree in journalism often includes courses in news writing, global journalism, and mass communications. Besides exploring news outlets, media, and possible roles in this field, journalism courses usually cover the ins and outs of research, writing and composition, editorial and feature writing, and other important knowledge areas. Finally, your undergraduate journalism degree courses could touch on ethics and legal concerns for budding media professionals, offering an overview of current issues and challenges in this exciting field.
Who are some influential Reporters?
According to the NYU Journalism Institute there have been "100 Outstanding Journalists in the United States in the Last 100 Years," below is a sampling of those influential reporters (in no specific order):
Marlene Sanders: the first female television correspondent in Vietnam, the first female anchor on a US network television evening newscast and the first female vice president of ABC News.
Tom Brokaw: anchored NBC's Nightly News and the network's special-events coverage, including elections and September 11, from 1982 to 2004.
Howard Cosell: a sports broadcaster, Cosell was one of the first Monday Night Football announcers in 1970 and was on the show until 1983.
Walter Cronkite: a reporter who became the best known American television journalist of his time as the anchor of the CBS Evening News from 1962 to 1981.
Barbara Walters: a journalist, known for her interviewing skills, and host of many influential ABC programs, including the ABC Evening News and 20/20.
FAQs About How to Become a Reporter/Broadcast News Analyst
What is the average salary of Reporters, Correspondents, and Broadcast News Analysts?
What are common types of software I would have to learn as a Reporter, Correspondent, or Broadcast News Analyst?
What types of personalities are a good fit for becoming a Reporter, Correspondent, or Broadcast News Analyst?
What job titles are similar or the same as a Reporter?