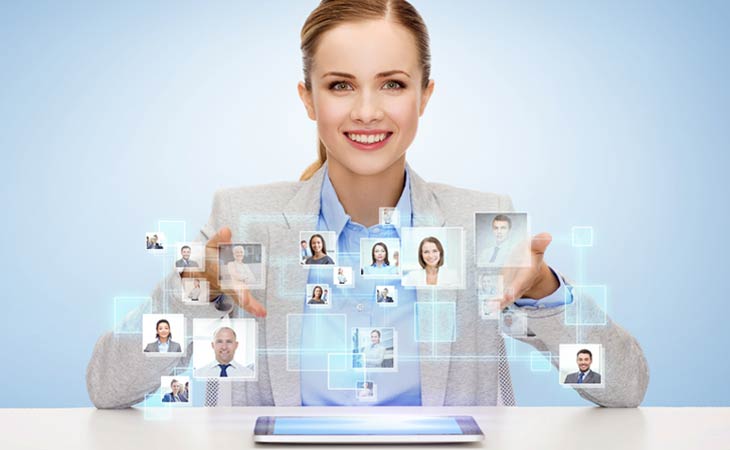 If you have a strong sense of integrity, excellent interpersonal and organizational skills, and a knack for writing, you may be interested in starting your own virtual assistant business. 
Whether you are thinking about creating your own business and marketing yourself as a virtual assistant business or hiring a dedicated team of virtual assistants, here is some information that may help get your thought process started.
Essentials of Working As a Virtual Assistant
Before you start a virtual assistant business, you might want to know what exactly it is that virtual assistants do. Virtual Assistants (or VAs) are independent contractors who provide professional administrative, technical, or creative assistance to their clients remotely [ii]. Essentially, they provide the same services as an administrative assistant, but work from a remote location. Specific job duties vary by experience, job title, and specialty [iii]. Virtual Assistants often work for small businesses, but may also support busy executives. [iv] 
Types of Virtual Assistant Businesses [v]
There are two main paths you may be able to pursue if you want to start a virtual assistant business. You might create your own business and be the sole Virtual Assistant or create your own virtual assistant firm, where you employ multiple virtual assistants. The latter are often called "multi-VA firms." Multi-virtual assistant firms hire experts in various fields who can complete just about any project on your list. Copywriters, design professionals, social media marketers, administrative experts, shopping cart specialists, and many other specialists may all part of a good multi-virtual assistant team. [vi]
You may be able to cut costs in a way that remote workers typically benefit from. You could potentially work more flexible hours since you're not located in a physical office and tied to its opening and closing times.Click to Tweet!

Share This Infographic On Your Site
Benefits of Virtual Assistant Businesses
There may be a variety of potential benefits of pursuing a career as a Virtual Assistant, as well as starting your own virtual assistant business. You may be able to cut costs in a way that remote workers typically benefit from, such as saving money on transportation/commuting or dry-cleaning your business clothing. You could potentially work more flexible hours since you're not located in a physical office and tied to its opening and closing times. 
If you own a virtual assistant business, you could save money on things like office space or rent and the typical office supplies (most VAs likely already have their own work station at home equipped with a computer). You also may be able to hire a hand-picked team from around the world, since employees aren't necessarily required to work in an actual office in a specific location. 
Who is your target audience that might need your VA services? Where are they located? Where do they hang out online? From answering these questions and doing a market analysis, you should be able to create your business plan and marketing strategies.
Click to Tweet!
Establish Your Virtual Assistant Services & Rates
First, you might want to establish what type of services you'd like to offer. What qualifications do you have that might make you a good fit for these specific services? From here, you should be able to find your own "niche," specializing in a handful of services. Potential niches could include managing social media accounts for small businesses or working with CEOs to manage their email inboxes, to name a few. 
Next, do your research. Who is your target audience that might need your VA services? Where are they located? Where do they hang out online? From answering these questions and doing a market analysis, you should be able to create your business plan and marketing strategies. There are generally three steps to conducting market research for your business -- identifying official government sources of market/industry data, identifying additional sources of analysis, and understanding the international marketplace. [vii]
Official government sources you might want to check out when starting a virtual assistant business include economic reports, like BLS's Consumer Price Index, Employment Cost Index, and Employment Situation. From these reports, you could learn more about your potential customers and competitors. 
Additional sources of analysis could include official VA organizations or websites and blogs run by virtual assistants themselves (The VA Handbook is an example of the latter). Keep an eye out for research surveys that cover virtual assistant topics and statistics as well. VA Networking is an example of one to look into, but be wary of who the studies are funded by and who the participants are.  
Finally, you'll want to establish your rates as well, taking into consider things like self-employment taxes, business expenses, and vacation days or personal time off. Virtual Assistants typically can choose to charge by the hour, by the project, or by retainer. 
Virtual Assistant Equipment & Expenses
After all of this is established, you may want to move onto the monetary aspects of setting up a VA business. What are your projected expenses? What equipment or software do you think you will you need? Many VAs require a website, business cards, and software (such as Microsoft Word or Skype for Business) as part of their initial startup costs [viii].  If you're running a multi-VA firm, you might additionally need to account for employees' salaries. After you've put all this information together, it's time to start writing your business plan. 
Virtual Assistant Business Plan
A business plan is an essential roadmap for any business. This living document generally projects 3 to 5 years ahead and outlines the route a company intends to take to grow revenues. It's typically comprised of the following sections:
Executive Summary
Company Description
Market Analysis
Organization & Management
Service or Product Line
Marketing & Sales
Funding Request
Financial Projections
Appendix
You can typically find examples or samples of virtual assistant business plans online, on websites like Bplans.com. It's important not to directly copy any sample business plans you find online, but instead to use them as a guideline. You want your business plan to be as specific as possible to your business and your niche. What may you be able to highlight as setting your business apart from the rest?
Deciding on Your Business Structure*
You'll likely want to decide how to register your business and make it official. You can approach this in a variety of ways based on your business structure.
If you plan on being the only employee in your virtual assistant business, a sole proprietorship could be the way to go. A sole proprietorship is someone who owns an unincorporated business by him- or herself.
If you plan on expanding your business to hire other employees (like multi-VA firms do), you might want to consider establishing a LLC (Limited Liability Company) or Corporation. A LLC is a business structure allowed by state statute. Each state may use different regulations, and you should check with your state if you are interested in starting a Limited Liability Company. Owners of an LLC are called members. Most states do not restrict ownership, and so members may include individuals, corporations, other LLCs, and foreign entities. There is no maximum number of members. Most states also permit "single-member" LLCs, those having only one owner.
A corporation generally takes the same deductions as a sole proprietorship to figure its taxable income, and can also take special deductions. For federal income tax purposes, a C corporation is recognized as a separate taxpaying entity. A corporation conducts business, realizes net income or loss, pays taxes, and distributes profits to shareholders. 
Registering Your Virtual Assistant Business
After you've decided what form of business entity you want to establish, you might move onto registering your business. The first step here is to choose your business name. It's important to check for trademarks before deciding on a name. Additionally, check that your business name is ready for the web. Things to think about might include: Is the domain available for purchase? Is there a company out there with a name that's a little too similar?
Registering your business name involves a process known as registering a "Doing Business As (DBA)" name or trade name. Registering your DBA name is the process of letting your state government know that you are doing business as a name other than your personal name or the legal name of your partnership or corporation. You should be able to do this with your county clerk's office or with your state government, depending on where your business is located. After this is finished, you may be able to apply for trademark protection through the United States Patent and Trademark Office.You should view a list of specific filing requirements for your state.
Hiring Employees for Your Virtual Assistant Company
If you're looking to hire virtual assistants to work at your company, you may be able to pursue a range of options. You could place job postings on relevant freelancer websites, such as Freelancer, Remote, and UpWork.
Virtual Assistant Organizations & Associations
Joining various virtual assistant associations or organizations could be a way to generate business, network with fellow VAs, and stay knowledgeable in the field. Here are a few you may want to consider looking into.
Worldwide Organizations
International Virtual Assistants Association (IVAA)
International Association of Virtual Office Assistants (IAVOA)
International Association of Virtual Assistants
Certification Programs
AssistU
IVAA
VA Certification
Pursuing a Career As a Virtual Assistant
High school graduates who have experience using computer software applications may be able to pursue entry-level positions as administrative assistants.[xiv] Although most secretaries learn their job in several weeks, many legal and medical secretaries require additional training to learn industry-specific terminology and best practices. Executive secretaries usually need several years of related work experience. [xv] The median annual wage in 2015 for administrative assistants was $36,500. [xvi]
Although not required, certification can demonstrate competency to employers[i]. The International Association of Administrative Professionals offers the Certified Administrative Professional (CAP) certification.[i] Candidates must have a minimum of 2 to 4 years of administrative work experience, depending on their level of education, and pass an examination[i].
---
*This information is for informational purposes only and should not be relied on for tax, legal, or accounting advice. You should consult your own tax, legal, or accounting advisors before you act, or fail to act, upon this information.
---
[i] bls.gov/ooh/office-and-administrative-support/secretaries-and-administrative-assistants.htm#tab-4 | [ii] ivaa.org/ | [iii] bls.gov/ooh/office-and-administrative-support/secretaries-and-administrative-assistants.htm#tab-2 | [iv]entrepreneur.com/article/71516 | [v] pmawebservices.com/home-office-success/va-or-multi-va-firm-what%E2%80%99s-the-difference/ | [vi] sba.gov/starting-business/how-start-business/understand-your-market | [vii] entrepreneur.com/article/195268 | [viii] sba.gov/starting-business/write-your-business-plan | [ix] irs.gov/businesses/small-businesses-self-employed/sole-proprietorships | [xiv] bls.gov/ooh/office-and-administrative-support/secretaries-and-administrative-assistants.htm#tab-4 | [xv] gov/ooh/office-and-administrative-support/secretaries-and-administrative-assistants.htm#tab-5