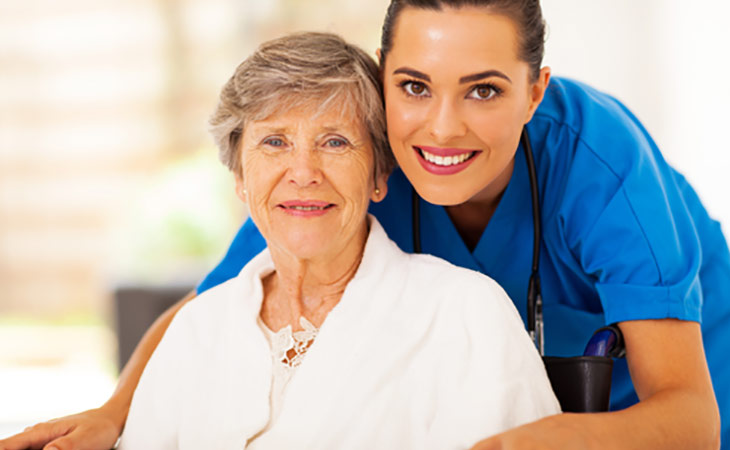 If you're already a health professional, you may be interested in starting your own business. One way to do this is by starting a home healthcare business.
Healthcare is a rapidly growing industry, expected by the Bureau of Labor Statistics to jump from just over 18 million jobs in 2014 to almost 22 million jobs in 2024.[i] This projected increase would make it the largest industry sector by employment in America, with 13.6% of the total workforce [i]. With such growth in the industry expected, if you're already a health professional, you may be interested in starting a home healthcare business of your own. One way to do this is by starting a home health care business. As the Baby Boomer generation ages, it will likely exert greater and greater demands for home care. If you're interested in using your expertise to provide care services while being your own boss, you may want to read more on how to start a home health agency.
What Does It Take in Starting a Home Healthcare Business?
While starting your own business may not be easy, the health industry's unique requirements might make it especially challenging to start a home health care business. Businesses in the healthcare industry are typically highly regulated, and, as a care provider, you'll likely have to meet certain ethical standards,[ii] as well as certain requirements related to compliance and liability. This tends to be true whether your business does or does not have its own established medical facilities [iii]. There may be some factors that may make it easier to start a homecare business, though. For example, since private healthcare services typically take place, unsurprisingly, in the patient's home, there may not be a need for a brick and mortar location, cutting start-up costs. Despite this, starting a home healthcare business may still require a lot of planning, hard work, and funding. If you're interested in moving forward, consider taking the following factors into consideration.
Home Healthcare Business Plan
One of the first steps in planning how to start a home healthcare business may be, well, creating a business plan! Your home healthcare business plan will generally be a roadmap to your first 3 to 5 years after opening your home care agency. It might contain different sections serving different purposes, from describing the services that your business might provide, to market analyses, to financial projections. It could also include specifics on how you'll be structuring your business or what you might do to grow revenue, such as creating marketing plans. If you're going to need additional financial support to open your own home healthcare business, you might also include a section addressing potential funding. [v]
If your head is spinning thinking about just creating a home healthcare business plan, much less an actual business, fear not! We've gathered a number of the major considerations you may want to keep in mind when crafting a business plan, and, ultimately, a home healthcare business.
Settling on a Type of Home HealthCare Business
Like many types of small business, home healthcare agencies typically are not one-size-fits-all. In fact, there may be many ways you can go about opening a home care business, depending on the type of care you're going to provide, the licensing you're seeking to obtain, and whether or not you're looking to be Medicare-certified. Depending on which routes you choose to follow, there may be different requirements or start-up costs. Read on to discover some of the major types of home care agencies you might try to open.
Non-Skilled Home HealthCare Business
Non-skilled home care agencies, which you may also see described as non-medical home care agencies[vii], tend to offer simpler services than their "skilled" counterparts. These might include making meals for patients, providing transportation, performing housekeeping tasks, or just lending assistance with regular daily life [viii]. Since these types of agencies typically do not deal with medical care, the process of obtaining proper licensure may generally be more clear-cut. Perhaps in part because of this, non-medical home care businesses may often be cheaper to start than other types of agencies.[vii]
Other notable aspects of non-skilled home care agencies might include the billing process. Typically, patients pay these agencies privately, rather than through a third party,[viii] as non-skilled, non-medical services typically may not be recompensed by insurance providers.
Licensed, Skilled, Non-Medicare Home Healthcare Business
Another type of home healthcare agency, a licensed, skilled, non-Medicare business may typically provide a wider range of services to their clients. Services could include providing Personal Care Aides (a non-skilled Medicaid service), or potentially skilled care, depending on whether or not the insurance company they're working with requires the care to be from a Medicare-certified agency. If they don't, the nurses may be able to administer certain types of medical care.
Medicare-Certified, Skilled Healthcare Business
The most expensive type of home health agency to start may be a Medicare-certified agency. Starting this type of healthcare business might require extensive licensure, because typically these agencies might offer a wider range of services, possibly including the following:
Nursing
Physical therapy
Occupational therapy
Speech therapy
Medical-related social work
These skilled agencies may also differ from other types of home care businesses in that they may not be able to offer health aide services unless they're also providing a skilled medical service. The process of obtaining the proper licenses and certifications may also be more challenging and time-consuming than for non-skilled home healthcare agencies.
License to Heal [iv]
Depending on the type of home health care business you're looking to start, you may need certain licenses or certifications to operate. These requirements may also vary depending on what state you'll be operating in. Be sure to check with your state's department of health to see exactly which licenses you'll be required to apply for, and what documentation you'll likely need to provide. Though requirements may vary, you might be expected to do some of the following:
Show that the employees of your home care business are properly licensed
Take and pass exams regarding health care regulations, policies, and ethics
Obtain a business license for the city or county where you'll be based
Have business licenses for cities or counties where you'll be operating
To become a Medicare provider, the process may be even stricter. Medicare providers might have to adopt certain standards of treatment, billing, and documentation, and may be subject to periodic, unannounced check-ups to verify continued compliance. [vii]
Structuring a Home Health Care Business*[x]
Another aspect of opening a private healthcare home business is choosing the structure of your business. Small businesses sometimes operate as sole proprietorships if there are no employees, but this may not be the best option for a home healthcare agency. Since lawsuits or liability claims might occur in the health industry, it may be a wise choice to form a business structure that could help limit your liability. While a sole proprietorship may not do this, some other business structures, such as those listed below, might.
Limited liability company (LLC)
Limited liability partnership
C Corporation
S Corporation
You could look into these, in addition to seeking informed help from an attorney, when deciding how to run your business [iv]: These structures may vary in their benefits or drawbacks, and not all might work for your business. Make sure you seek the help of a professional attorney or Certified Public Accountant when evaluating which structure might be great for you. [viii]
Liability Insurance[iv]
Though the right business structure might help limit liability, it may be a good idea to look into liability insurance. You might be able to purchase insurance that protects your whole business, plus professional liability insurance for any employees, and worker's compensation insurance as well. Since there may be additional risk associated with working in patients' homes, these insurance packages might be priced accordingly. Be sure to talk to an insurance broker that specializes in health care to make sure your business will be properly insured.
To Franchise or Not to Franchise
Since opening a home health care business can be a difficult process to navigate, it might make sense to work with a franchise. Though franchises may typically charge fees, they might also provide guidance on how to start a home health agency and how to keep one running.[viii]
Hiring the Right Employees
If you're looking to hire employees for your home healthcare business, you'll need to make sure you're properly evaluating candidates. Depending on the type of homecare agency you plan on operating, you may need employees with different qualifications. If you're planning on running an agency that offers medical services, your employees will need to be properly educated and licensed to perform those services. Make sure that, during the interview process, you're thoroughly checking qualifications and references, and lawfully running background checks on anyone you might plan on hiring.[vi]
Finding Clients
Though it could take a lot of work to get a home health agency up and running, it may also take a lot of work to keep it going. After opening your healthcare business, you'll need to find clients to ensure its continued operation. One of the more popular sources for home care clients may be through networking and referrals. Making connections with assisted living facilities, hospitals, or similar healthcare providers could prove to be beneficial for your home health agency [xii].
You could also try other promotional methods. Running advertisements or getting your business profile in local newspapers could help spread the word.
Get Started
If you feel like you know enough about how to start a home health agency, it might be time to start thinking about your business plan! Make sure to check all the requirements for licenses, certifications, and permits in your area. Good luck!
*This information is for informational purposes only and should not be relied on for tax, legal, or accounting advice. You should consult your own tax, legal, or accounting advisors before you act, or fail to act, upon this information.
---
[i] bls.gov/emp/ep_table_201.htm | [ii] smallbusiness.chron.com/steps-start-home-health-care-agency-4797.html | [iii] smallbusiness.chron.com/start-home-health-care-small-business-4431.html |  [v] sba.gov/starting-business/write-your-business-plan | [vi] capitalhealthcaregroup.com/_pdf/Starting-A-Home-Care-Agency.pdf | [x] sba.gov/starting-business/choose-your-business-structure/corporation | [xii] entrepreneur.com/article/170794