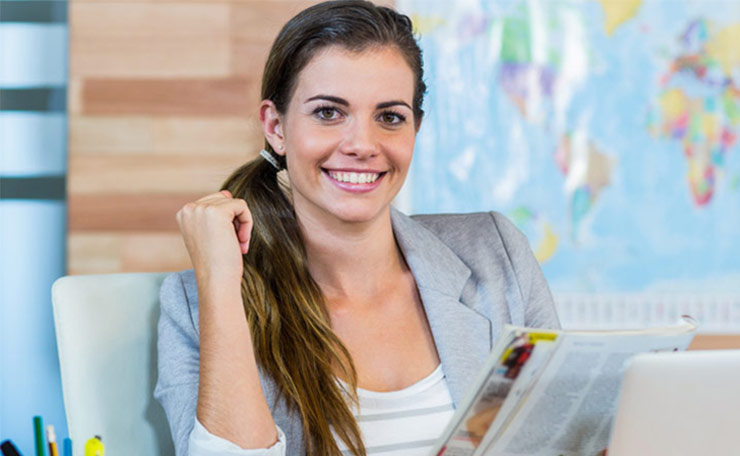 What You Need to Know About Starting a Travel Agency
Have you thought about starting a travel agency? Working as an independent travel agent may not always be easy, but if you have travel industry know-how and a solid business intuition, it may possibly be a rewarding pursuit. You might have the benefits of setting your own hours, being your own boss, and possibly even working from home! Yet, you may need more than just business knowledge to start your own travel agency – there might be a lot to plan for before you can consider opening a home-based travel agency. Funding, marketing, licensure—these are all considerations you should have in mind as you dream of starting down this path. For more tips on how to pursue a career as a work-at-home travel agent, keep reading!
Starting a Travel Agency: Is Now the Right Time?
The first thing to figure out before trying to launch a travel agency is whether or not it may potentially be a great option for you. In 2014, only 1 in 10 travel agents were self-employed,  and it usually takes someone with travel industry or sales experience to succeed as a home-based travel agency owner. [i] If you don't have this experience, it might be best to look into travel agent positions with a larger travel agency. Then, once you feel comfortable with the experience you've gained in travel and sales, you may be able to revisit the question of how to start a travel agency business. 
Building a Travel Agency Business Plan
If you want to be on the path to starting a travel agency, congratulations! By reading this article, you've already started planning. However, it usually benefits you to prepare in a more formal manner, perhaps by creating a travel agency business plan. Essentially a roadmap for your agency, a business plan outlines the direction you'll be going in as owner for the first few years [iii],  how you plan to make sales and grow your business. It may contain some of the following sections:
Executive Summary
Company Overview
Marketing Research
Products or Services
Marketing and Sales
Financial Projections 
Funding Request 
This may seem daunting at first, but keep reading and you may hopefully have a better handle on how to answer some of these questions.
Consultant, Franchisee, or Independent?
One of the biggest questions when figuring out how to start your own travel agency is what type of business you'll want to open. There are typically three options: becoming an independent travel consultant, purchasing a franchise of a travel agency, or starting your own agency from scratch. [ii]
Independent Consultant
Independent contractors, while still self-employed, typically work within the confines of a traditional travel agency. They might work out of that agency's office, and are associated with the business, but can still work at their pace, with clients of their choosing. Consultants may also benefit from the resources of the agency, including IATA numbers and software. However, working with an agency as a consultant might limit you as a travel agent in some ways. 
Purchasing a Franchise
If you're interested in the benefits of a traditional travel agency, but want a little more responsibility than you might have as a consultant, you could consider purchasing a franchise. You may likely benefit from the precedent of an established business's procedures and framework, but might be limited by that as well. Starting a franchise generally entails specific equipment expenses, which may include items like phones, computers, and software.
Starting Your Own Agency
The most freedom in starting a travel agency may be afforded by this option. Starting your own home-based travel agency may allow you to control costs and build the business the way you want to without being limited by a larger agency. Branching out on your own might seem like a daunting proposition, but you may not have to be totally unaided. While many travel agents do choose to go it alone, these are normally experienced agents with large, established professional networks. Many other travel agents choose to take advantage of a host agency [viii]. 
Working with Host Travel Agencies
Right off the bat, you're probably wondering what a host travel agency is. Essentially, a host travel agency offers services to home-based agencies that may be difficult to provide on their own, such as back-end services,  marketing,  or a known IATA number.  In exchange, the home-based travel agency will typically pay the host travel agency in some way, often by commission splits or upfront fees.
 
If you think that sounds like a good plan for your prospective business, you'll want to do some research to figure out what might be the best host travel agency for you to work with. There are a number of hosts, and they may range in size, location, services, or fee structure. Keep these differences in mind, and try to find an agency that matches your preferences.
Other factors in choosing the best travel host agency for you might include the type of training it offers, how the business is reviewed, or what type of travel they specialize in. Ideally, you would want this to match the type of travel you might be interested in specializing in, which brings us to our next  consideration.
Which Services to Offer
Travel is a field nearly as broad as the world is wide, which means you may have a lot of options when it comes to what type of services you're looking to provide when starting a travel agency. These might include, but are certainly not limited to:
Building travel itineraries for clients
Booking/reserving flights
Arranging cruises or tours
Reserving hotels
Securing travel insurance
Assisting with travel requirements like visas
Depending on your preferences, or your areas of experience, you might want to focus on one or more (or maybe all) of these. 
You may also want to find a niche that sets you apart, especially in a travel market that now includes websites like Kayak.com, Hotels.com, or Expedia.com that let people compare prices and make their own reservations online. Aligning with your strengths as a travel agent or focusing on a specialty market might help you carve out your piece of the pie. Some examples of these specialty markets could include the following:
European travel
Eco-tours
Honeymoons
Age-specific travel
Student travel
Family travel
LGBTQ travel 
Try to take into account the professional travel experience you have, and align it with where you might see some market opportunity.
Permit Yourself to Start a Travel Agency
Once you've figured out the business model you'd like to use, the services you're looking to provide, and whether you'll cater to any specific markets, it's time to get down to the nitty gritty of opening your travel agency. Depending on where you plan on opening a travel agency, you may need some sort of business license or permit. Most states have some requirements, but since the laws vary so much, it's difficult to say what these might look like for your specific case. Make sure you look into what kind of permits you might need to secure well before your plan to open your doors for business.
Registering the Right Business Type [xiv]
Another consideration to keep in mind is what type of business classification you'll want to start. Different types of businesses are governed by different laws and tax codes. The type you choose can have a big impact on the structure of your business. Some options you might have include:
Sole Proprietorship: The simplest option, this means you are the only owner and are totally responsible for the business.
Limited Liability Company: Also known as an LLC, this option offers some benefits in terms of liability protection or tax efficiencies, and may be better for businesses larger than a sole proprietorship. 
Corporation: A more complex option, this is generally for larger companies with more than one employee.
Regardless of the structure you choose, you'll likely have to register your independent travel agency as a business with the state. Depending on the state or the structure you pick, you may have to pick a unique, specifically formatted name for your business. 
Finding Funding for Your Travel Agency
Depending on what kind of business you're setting up, you may need to find funding beyond what you already have to start an independent travel agency. Make sure to assess exactly how much you have available and how much you think you'll need before setting out to acquire any additional funds. Then, you might want to investigate potential sources of funding, which could possibly include applying for a loan. When doing this, you'll want to know exactly how much you need, how you intend to use the funding, and any plans for repayment. 
Where's Your Home Base?
Figuring out where you want to work is part of knowing what the estimated cost of funding your business will be. Independent travel agents are often called home-based travel agents, but that doesn't necessarily mean you have to work out of your house. Some agents may choose to lease retail space so that they can work and meet with clients in a more professional setting.vi  It's entirely possible, though, to be a work-at-home travel agent, as the internet has made it feasible to deliver most travel services remotely.
What about Certification?
Although certification is not a requirement to becoming an independent travel agent,  you may want to consider some of the options offered by groups such as the Travel Institute, the International Air Transport Association, and the Cruise Lines International Association. Getting certified may be a great way to show potential clients that you're serious enough to have taken your training to the next level.
Promoting Yourself
Speaking of clients, they may actually be the most important aspect to consider when starting a travel agency! They are, after all, the ones who would help you develop your business. So how do you attract clients to your services? Well, there may be a number of answers to that question.
One way is to promote yourself. Having a website is an essential part of owning a travel agency, and on it you'll want to include some or all of the following:
Your services
Your contact information
Online booking options that you offer
You may also want to create some promotional materials you can hold in your hand the old-fashioned way. Business cards and brochures can be a good way to market yourself.
You may also want to rely on larger agencies for help with promotion. Host travel agencies or franchises may offer marketing programs such as direct mail or help with website construction. Some companies may even provide their consulting travel agents with a live client list! 
Networking is also an important part of building your client list, so make sure you get active on LinkedIn and reach out to your existing industry contacts to let them know what you're doing. It may also be a good idea to join professional travel industry organizations like the American Society of Travel Agents (ASTA) or the National Association of Career Travel Agents (NACTA) to take advantage of things like:
Industry news and events
Trade shows
Education and training programs
Lead generators 
Taking the Leap
Starting your own freelance travel agent business may be a challenging but thrilling process. What it comes down to is doing the necessary planning, and really putting in the time and effort to set yourself up to the best of your ability. And remember, a part of being a good travel agent is constantly being on top of industry news and trends. It can't hurt to go on a few adventures of your own as research!
---
*None of these companies are owned by, operated by, endorsed by or affiliated with Education Dynamics, LLC.
**This information is for informational purposes only and should not be relied on for tax, legal or accounting advice. You should consult your own tax, legal or accounting advisors before you act, or fail to act, upon this information.
---
[i] bls.gov | [ii] smallbusiness.chron.com | [iii] business.usa.gov | [viii] hostagencyreviews.com | [ix] hometravelagency.com | [xiii] sba.gov [xiv] sba.gov/starting-business