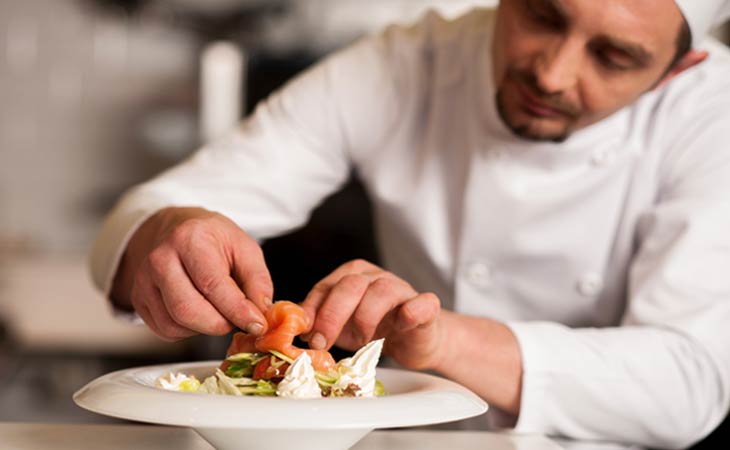 Do you love working in the kitchen, but want to break free of the structured environment of a restaurant? Maybe you should consider starting a personal chef service!
Essentials Starting a Personal Chef Service
Before beginning on the path to potentially starting a personal chef service, you have to decide if it's the right choice for you. Being a personal chef tends to offer more freedom than other cooking occupations since you're your own boss, but that's not the only difference. Personal chefs might need skills and knowledge that other cooks may not use [i]. These might include:
Customer service
Sales and marketing
Economics and accounting
Administration and management
Decision-making [ii]
If you think you have the mindset and business knowledge to start a personal chef business, you might want to keep the following tips in mind.
Keeping Your Business Plan in Mind
One of the first steps you'll likely want to take is to create a business plan. While you may have already started putting hypothetical plans together in your head, a business plan is a formalized outline of the path you'll be taking for the first 3 to 5 years of your business [iii].
Typically, a business plan may speak to some of the following aspects of your personal chef service:
What benefits you provide to customers
What makes you different from other chef services
What markets will you target
How your business is structured
Details on your chef service
A marketing plan
An analysis of the market and/or financial projections for your business [x]
If you need additional money to start a personal chef service, a business plan might be used to identify potential sources of funding. In this case you'll usually include a section outlining your monetary needs, how you plan to use the money, and how you plan to pay it back [iv].
We're getting ahead of ourselves, though! Before you can get to work on your business plan, you'll need to know a little bit more about the business itself. So let's get started.
Personal or Private?
If you're doing research into what it takes to start a personal chef service, you might also come across the term "private chef." So what's the difference?
Though both are similar, a private chef tends to be employed by just one person or family. They might cook all of that client's meals, essentially working full-time. A personal chef, meanwhile, tends to cook meals for more than one client. Either may cater parties, holiday meals, luncheon events, and other social events of varying sizes [v].
The Finer Details of a Personal Chef Service
One of the first steps in starting a personal chef business is figuring out what services you're going to offer. Though every personal chef prepares meals for clients, beyond that there can be a wide range in how they work, what they offer, and whether or not they have any specialties. You should take into consideration your preferred work style, skills and expertise, and target market when mapping out your personal chef business.
Finding Your Kitchen
One major variable could be where you work. Every chef needs a kitchen, but some personal chefs cook in their clients' homes, while others may work from a commercial kitchen.[xii] Depending on what clients you're targeting, and what commercial kitchens may be available in your area, you may prefer one method or the other.
Making Sure Clients Aren't On the Back Burner
Another decision to make is when you will offer your services. Though personal chefs mostly cook meals to be stored and enjoyed later, allowing for a flexible schedule, some may cook meals to be enjoyed immediately. If this is the case, you'll need to work your schedule around those meals. Some personal chefs also make themselves available for special occasions such as group dinner parties, which might require cooking on a larger scale.[xii] Figuring out how to manage your schedule so that you're busy but not overworked may take some effort. You'll also want to make sure you're clear up front about when you're available, so clients aren't disappointed if you can't help them with a dinner party.
Should You Consider a Specialization?
Another consideration to keep in mind when considering becoming a chef is whether or not you'll specialize in terms of the cuisine offered. Clients may think about hiring chefs to help them plan meals according to their preferences, health, and dietary needs [vi]. Knowing how to manage these requests is essential, but you may also want to advertise a specialty if you have or can develop one. If you're an expert at vegetarian, gluten-free, or diabetic-friendly cooking, for example, you may be able to more easily build a client base.
Getting the Right Business Licenses or Permits*
To open a personal chef business, it's likely that you'll need to obtain some sort of business license. Depending on where you're located, the requirements for licensure could vary greatly, so you'll want to do as much research as possible on what licenses personal chefs need in your geographic area.
If you plan on being the only employee of your personal chef service, you may want to register your business as a sole proprietorship [vii]. Some chefs, though, may opt to hire others to help them with cooking and operations, in which case you might want to consider forming a Limited Liability Company (LLC) or a corporation [viii].
Depending on the regulations of your state or county, you may need additional licenses related to food preparation. If you're cooking from your home, this could include a home work permit or a home inspection to make sure your cooking environment is up to standards. If you're going to be delivering prepared food, you may also need a caterer's license. [ix]
Should You Pursue Personal Chef Certification?
Though you may already have received a wealth of culinary training and education, you may want to consider earning additional certification specifically as a personal chef. Certification – typically conferred by an organization, such as the American Culinary Federation – may be awarded to personal chefs judged to be at a specific level of competence. To earn certification from an organization, there may be certain requirements, which could vary among institutions. These might include a minimum amount of work experience, a certain level of education, or being able to pass an examination. [xii]
Though it's not a strict requirement, and some certifications actually require work experience as a personal chef, becoming certified could potentially help you enhance your career. Certification may indicate the following to clients:
You are a skilled and competent chef
You understand dietary needs and food safety
You conduct business ethically and cook sanitarily [xx]
You are continuing to learn and improve as a chef
You are well connected to the industry and other chefs [xii]
Depending on the organization, different types of certification may be offered. The American Culinary Federation, for example, offers two types of personal chef certification (in addition to many other culinary certifications). While one is a simple certification indicating competence as a personal chef, the other may indicate that the recipient has marketing, financial management, and decision-making skills [xiv]. As you enhance your business and career, you may want to consider trying to earn additional certification that is relevant to your career path or business.
What Are Some Potential Benefits to Me?
In 2014, 69% of cooks were employed in a restaurant or similar establishment. According to a poll by O*Net, restaurant cooks were most likely to say their job offered "some freedom"[vii] in regard to decision-making and work structure [xvi]. Of personal chefs in the same study, meanwhile, 93% said their job offered "a lot of freedom." Personal chefs also said they faced less time pressure than restaurant cooks, [ii] and were exposed less frequently to burns, cuts, or stings. [iii]
Also, personal chefs earned a median salary of $26,300 in 2015,[xviii] as compared to the $23,100 earned by restaurant cooks [xix] and the $23,960 earned by institution and cafeteria cooks [xx].
Taking the Leap
Now that you know a little more about what it might take to start a personal chef service, you may want to get started on your business plan! Remember to keep in mind your market, your skills as a chef, and your preferred schedule. Owning a personal chef service could possibly turn out to be a lot of work, but it also could offer certain flexibilities and freedoms in terms of being your own boss. So good luck!
*This information is for informational purposes only and should not be relied on for tax, legal, or accounting advice. You should consult your own tax, legal, or accounting advisors before you act, or fail to act, upon this information.
---
[i] onetonline.org/link/summary/35-2014.00 | [ii] onetonline.org/link/summary/35-2013.00#Knowledge | [iii]sba.gov/starting-business/write-your-business-plan | [iv] sba.gov/starting-business/write-your-business-plan/funding-request | [v] bls.gov/ooh/food-preparation-and-serving/cooks.htm#tab-2 | [vi] onetonline.org/link/summary/35-2013.00 | [vii] sba.gov/starting-business/choose-your-business-structure/sole-proprietorship | [viii] uspca.com/education/faqs-and-terminology/ | [ix] work.chron.com/requirements-private-chef-11959.html | [x] bls.gov/ooh/food-preparation-and-serving/cooks.htm#tab-4 | [xi] uspca.com/education/certified-personal-chef/ | [xii] acfchefs.org/ACF/Certify/Levels/PCC/ACF/Certify/Levels/PCC/ | [xiii] acfchefs.org/ACF/Certify/AboutCertification/ACF/Certify/About/ | [xiv] acfchefs.org/ACF/Certify/Levels/ACF/Certify/Levels/ | [xv] bls.gov/OOH/food-preparation-and-serving/cooks.htm#tab-3 | [xvi] onetonline.org/link/summary/35-2014.00#WorkContext | [xvii] onetonline.org/link/summary/35-2013.00#WorkContext | [xviii] onetonline.org/link/summary/35-2013.00#WagesEmployment | [xix] onetonline.org/link/summary/35-2014.00#WagesEmployment | [xx] onetonline.org/link/summary/35-2012.00#WagesEmployment