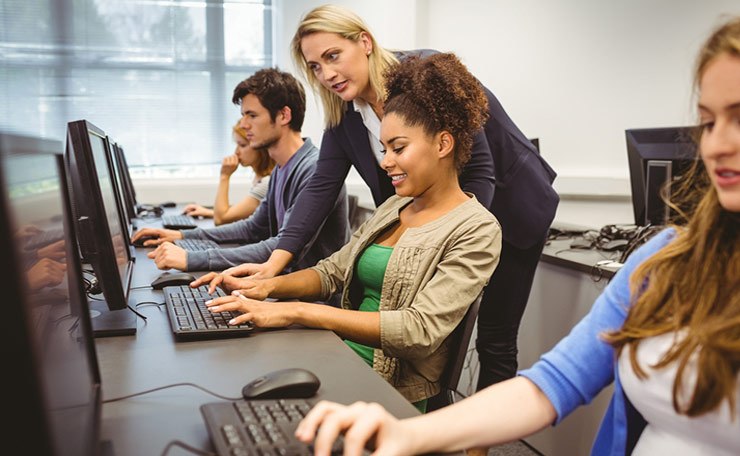 If you have experience teaching others and an entrepreneurial mindset, you may want to consider starting a tutoring business. People almost everywhere, in many different situations and life stages, may be looking to learn. Think about it, you probably even came to this article to learn something! And tutors can help people in many different situations with their education. If this appeals to you, read on to find out how you might start a tutoring business!
Essentials of Starting a Tutoring Business
If you are thinking about starting a tutoring business, keep in mind that lots of planning and hard work is needed to open a business and you'll have to make sure you know what you're doing before you dive in. You'll also have to find ways to stand out from the competition. According to O*Net, there were 983,000 tutors in the United States in 2014, and that number is expected to grow by 5 to 8% from 2014 through 2024 [i].
You'll also need to take into account the skills necessary to run a tutoring service. Not only will you have to help others with learning, but you'll need to manage the business aspects of your service as well. These might include accounting, marketing, or human resources [ii]. If you think you're ready to handle these responsibilities, you'll probably want to know what else to keep in mind when starting your own tutoring business. The considerations below might get you off to a good start!
Making Plans for Your Business
As with any new business, one of the first things you may need to do is lay out a tutoring business plan. While it might sound straightforward, there are a number of things you'll want to accomplish with your business plan, which should act as a roadmap to where you want your tutoring service to be in 3 to 5 years [iii]. This might include some of the following:
Summarizing your goals as a business
Analyzing the market for your service
Describing the desired structure of your tutoring business
Detailing what services you will offer
Discussing how you plan to market your business
Projecting how much funding your business might require [iv]
To create a standout business plan, you'll want to be as clear and specific as possible. You'll also likely need to do some research, and may even benefit from a market survey. This extra leg work may help you find out the potential opportunities for your tutoring business [iv].
Targeting Your Tutoring
When writing a tutoring business plan, one of the first things to address is how you're going to target your service. Tutoring may be a wide field, but identifying a market niche and targeting it can be a good strategy for a small business [v]. You might find your niche by specializing in one of the following ways:
By Age: One of the easiest ways to narrow down the field is by age. Though tutoring may bring to mind younger students, adults and college students may also be in the market for a learning assistant. Take into account what kind of student you work best with, what the demand may be, and what rates you can charge for each type of tutoring.
By Subject: Not every subject is the same, and you could benefit by specializing in certain academic areas of focus. Some subjects, such as math or reading, may be in demand, so it might be beneficial to offer services in these areas [vi]. You'll also want to make sure you're offering tutoring in areas that match your skills and experience. [vii]
Other Specialties: You could also consider honing in on a more specific field. Depending on the demand in your locale, this could include test preparation [viii] – getting students ready to take standardized exams like the SAT, ACT, or GRE – or catering to special needs students [ix]. Remember, though, you'll want to specialize in subjects in which you have experience – you don't want to be learning as you teach!
Picking a Good Location
Once you've figured out how you're going to target your tutoring service, you'll need to figure out where your tutoring sessions will take place. This could have an impact on your costs as a business, and how you schedule sessions. Some possible options might include:
Your home
Your clients' homes
Libraries or coffee shops
A rented space [viii]
Each of these may have potential benefits or drawbacks. You may be more comfortable tutoring in your own home, but your clients may prefer you travel to them. You may also need to keep in mind how far you'll be willing to travel, and how much the commutes will cost.[vii]
Considering Your Business Structure*
Another consideration to keep in mind when starting a tutoring service is what kind of structure you want your business to have [ix]. Depending on the size of your tutoring business and whether or not you're planning on hiring additional employees, different structures might be best for you. Here are some potential options you might have:
Sole Proprietorship: If you plan on being the only employee of your tutoring business, this might be a good option for you.[x]
Limited Liability Company: This option is a hybrid structure that offers limited liability and some tax efficiencies. [xi]
Corporation: If you're looking to have multiple employees at your tutoring business, this might be a better option. [xii]
Hammering Out the Details
Once you've worked out the structure of your company, it might be time to start hammering out the details for your tutoring service. Here are some things to think about:
Business Insurance
This could especially be a consideration if you're planning on tutoring out of your home or a space that you're leasing. Though tutoring might not seem like too risky an endeavor, you may want to protect yourself from liability regardless. You could consider speaking to an insurance agent to get advice and details.
Budget
Though starting a tutoring business tends to be relatively low in cost,[vii] you will need to spend some money to operate. Costs might be incurred in some of the following areas:
Supplies, such as pens, pencils, and paper
Study guides, worksheets, and lesson plans [viii]
Bookkeeping software [ix]
Travel costs [vii]
Rent, if applicable
Advertising [viii]
Knowing how much your service will cost to run could help you plan other aspects of your tutoring business.
Pricing [vii]
One of these aspects is pricing. Figuring out how much to charge is a big factor when starting your own tutoring business. Rates might be influenced by your budget, who your clients are, where your business is located, your level of experience, and what you're teaching. One of the best indicators of how you should set your services, though, might be what your competitors are charging. Take some time to look into this, and you may be able to tell if the rates you're considering are in line with the market.
Licensing
Depending on where you're going to be doing business and what you're teaching, you may need a license to start a tutoring business. Even if you don't need a license, some states require certain types of tutors to get personnel qualification approval [xiii]. License and permit requirements can vary greatly, so make sure to do some research into your situation to see what you need. [xiv]
Learning to Promote Yourself
Once you've planned out how to start a tutoring business to the last detail, you'll need to think of one more thing: making sure people can find your service! Promotion could be a major aspect of starting a tutoring service, and there are a number of ways you might want to go about it. Here are some options to consider when thinking about how to promote your tutoring service:
Online Marketing: Using a website to promote your business might be a good way to capture anyone looking on the Internet for a tutor. Not only could a website provide details on your service and how to contact you, but you might be able to use tools like search engine optimization and social media to attract more potential clients. [xv]
Physical Advertising: Not everyone, though, may be looking online to find a tutoring service. Creating posters, business cards, or sales literature could possibly be a good way to get information directly into the hands of potential clients. [xvi]
Tutoring Agencies: These are sites that might aggregate listings for tutoring services, and could match students and tutors. Some may charge a fee, but this isn't always the case. [vii]
Word of Mouth/Networking: Once you have a client or two, you may be able to rely on them to refer you to more potential students. Other ways of networking could include holding an open house, or joining a commercial organization.[xvii]
Something to keep in mind when promoting your tutoring business is that, if you're planning on working with younger students, your target audience should be their parents and not the students themselves. They're the ones that might hire you, after all! [ix]
Get going!
If you've read enough and you think you're ready to start planning how to open your own tutoring service, then let's get started! Remember to be as thorough and clear as possible with your business plan, and consider the market you'll be working in. Good luck!
*This information is for informational purposes only and should not be relied on for tax, legal, or accounting advice. You should consult your own tax, legal, or accounting advisors before you act, or fail to act, upon this information.
---
[i] onetonline.org/link/summary/25-3099.02 | [ii] sba.gov/category/navigation-structure/starting-managing-business/starting-business/choose-your-business-stru | [iii] michigan.gov/statelicensesearch/0,4671,7-180-24786_24826-81586--,00.html | [iv] onetonline.org/link/summary/25-3099.02 | Additional Sources: sba.gov/writing-business-plan | ehow.com/how_5066128_open-tutoring-center.html | state.gov/m/dghr/flo/c21947.htm | tutoring-expert.com/starting-a-tutoring-business.html | tutorpanel.com/blog/2011/07/start-a-tutoring-business-steps-to-success