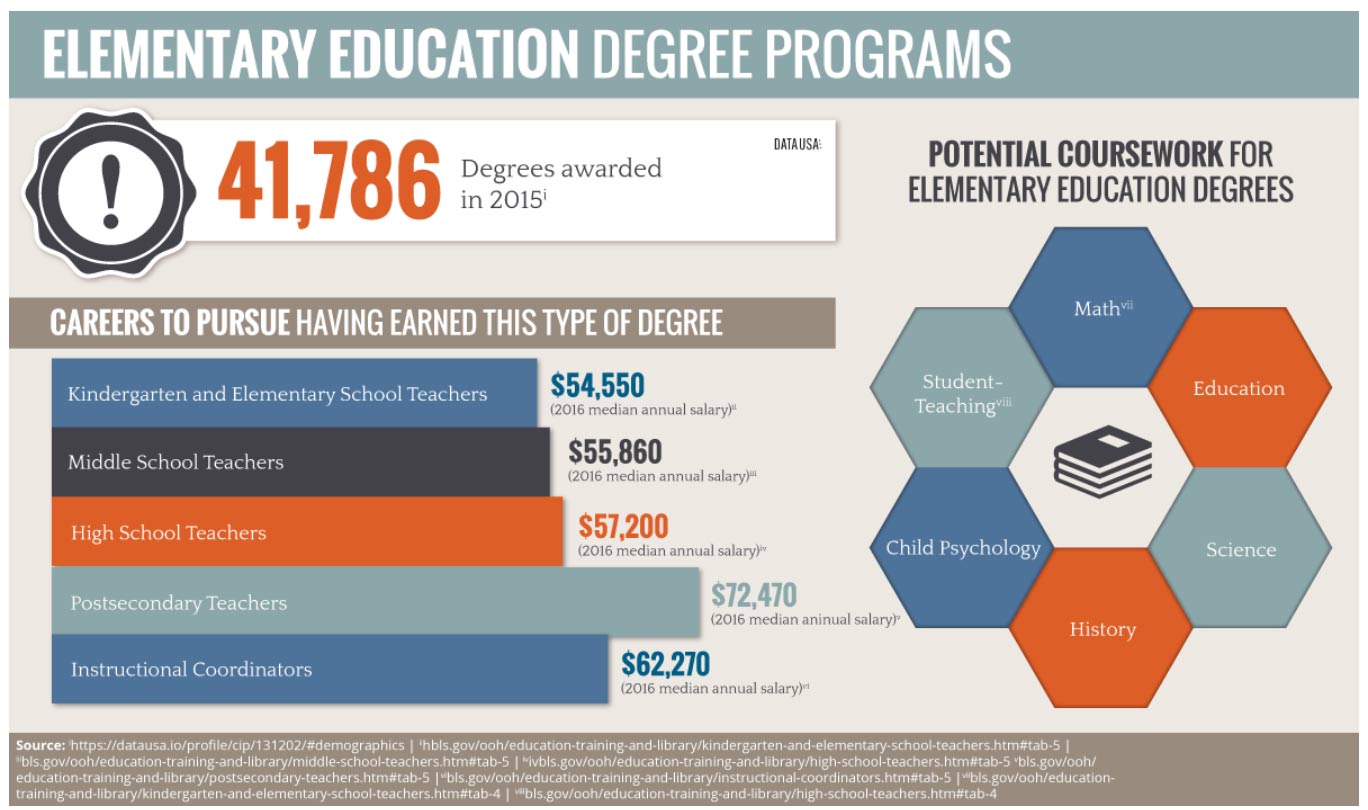 An elementary education degree prepares students to create, teach, and asses lesson plans for students. Elementary teachers can teach any grade from kindergarten through eighth grade.
Did You Know? As of the fall of 2016, there were about 50.4 million students in American primary and secondary schools combined. This includes 35.4 million pre-K through 8th grade and about 15.0 million grades 9 through 12.
Essentials of Elementary Education
The specific grades of elementary education break down into two different groups listed here:
Elementary or Primary Schools: Kindergarten through 5th Grade
Middle or Intermediate Schools: 6th grade through 8th Grade
Keep in mind that many U.S. states have different ways of separating grades. For instance, some states may not have a middle school classification, which means elementary school may go all the way through 8th grade. Other states may have other distinctions. Check with your state for more information as this may affect your degree choice.
Online Elementary Education: What You'll Learn
While pursuing an online elementary education degree, you will learn how to teach students so that they may excel and achieve their educational goals.
Many programs review methods of engaging students in analytical, creative, and critical thinking. Some elementary ed courses also focus using technology to enhance lesson plans and promote engagement.
By learning different approaches to teaching, future teachers may be able to better serve the unique needs of children.
These teaching techniques may also help students to close the achievement gap. The achievement gap is the negative effect of factors on student learning. Such as a disability or coming from a low-income or ethnic-minority family. This is measured by metrics such as students' grades and test scores. Many elementary education programs aim to reach students of different backgrounds, cultures, and learning styles.
Important Topics in Elementary Education
Online elementary education degrees are designed to prepare you for the classroom setting. Courses typically cover the concepts to test the effectiveness of current teaching methods. And, how to improve your own strategies.
Check out the list below for some of these important topics in elementary education.
Exploring modern trends in education and their benefits
Evaluating educational methods, such as differentiated learning and direct instruction
Analyzing different approaches to classroom management and discipline
Researching evidence-based learning concepts
Typically, schools that offer an elementary education degree online also cover many other fundamental topics in teaching. These may include curriculum design, lesson plan creation, and how to assess the progress of each student. Each school has a unique design and course of study. Specific topics and approaches may vary.
Common Elementary Education Courses
Many elementary education online courses cover the principles necessary for effective teaching. These consist of creating lesson plans that keep students engaged and help them understand the curriculum. It may also include creating and grading tests and quizzes, as well as preparing students for standardized tests.
Elementary education courses may also cover different approaches in enforcing classroom rules. This may help students to stay focused and engaged on current lessons.
Some of the specific elementary education courses you may take include those listed here.
Early Literacy Instruction, K-6
Mathematics, Primary and Middle Grades
Computer Applications in Education
Exploring Social Studies Content
Foundations of Teaching and Learning
Health and Movement in Elementary Classrooms
Classroom Management and Discipline
Teaching Culturally and Linguistically Diverse Learners
Instructional Planning and Presentation in Elementary Education
Educational Assessment
Usually, elementary education programs also require you complete general courses to earn your degree. These may include courses in business, history, art, and other subjects. Each school is different, so you should check with a few options to find a school that matches your goals.
Student-Teaching Requirements
To become a licensed teacher, you must also complete a certain number of student-teaching hours. This must be done under the supervision of an experienced teacher. [i] The exact hours may vary from state to state. Many elementary education bachelors degree programs require 12 consecutive weeks of full-time student teaching.
The student-teaching segment of your elementary education degree may help with the following concepts.
First-hand experience in a classroom
How to adapt lesson plans to engage students
Apply principles learned at class
Understand levels of discipline and how children react
Student-teaching may provide you with valuable experience so you feel comfortable in the classroom upon earning your degree.
Available Concentrations for Your Online Degree in Elementary Education
Some online elementary education bachelors programs offer concentrations. These may provide you a chance to tailor your course of study to provide extra focus on one field. As a result, choosing a concentration may help make you more proficient in the field of your choosing.ii
Some of the available concentrations in elementary education include those listed here.
Mathematics
English
Special Education
Foreign Language
Science
Keep in mind that some schools may offer more concentrations and other schools may not offer any. You should research a few schools to find a perfect match for you.
Difference Between Elementary Education and Secondary Education
Most elementary education bachelors degree online programs cover kindergarten through 12th grade. However, some programs focus courses and topics up to 4th, 5th, or even 8th grades.
Often, elementary school teachers teach many subjects to students throughout the day. But, many intermediate and secondary school teachers teach one subject or a group of similar subjects. If you would like to teach older children, focusing on one subject may be ideal. [ii]
Admissions Requirements for Elementary Education Bachelors Degree Programs
Most online elementary education degree programs ask that you have earned a high school diploma. Some schools may have more requirements such as:
High School GPA of 2.0 or higher
All transcripts
SAT or ACT Scores
Interview
Specific admissions requirements vary, depending on the school. For instance, some schools ask that you pass a basic skills test to determine if you need any extra courses. Check out a few schools to find one that matches your goals.
Is Elementary Education a Bachelor of Arts or Science?
Elementary education bachelors degrees can be either a bachelor of science (BS) or a bachelor of arts (BA). Both BA and BS elementary education degrees typically take the same amount of time and have similar requirements.
One of the main differences is that av BS degree normally offers fewer electives and requires more courses inside of the major. BA degrees may offer students a chance to take many liberal arts electives. This may provide you a more well-rounded, general education.
Some schools are set up so that, if you pursue a BA, you may study the subjects listed here.
Language Arts
Mathematics
Social Studies
Reading
Special Education
Some schools allow you to pursue a BS degree in more technically focused subjects, such as mathematics or science.
How Long Does It Take to Get a Teaching Degree?
Most full-time students can earn their elementary education bachelors degree in four years. This may depend on when courses are available and the specific design of a school.
As you could expect, it takes longer for a part-time student to earn their bachelors degree.
Elementary Education Accreditations
Aside from regional accreditations, there is one important national accreditation to look for. It is awarded by the Council for the Accreditation of Educator Preparation (CAEP).
The goal of CAEP is to assure quality in educator preparation. They look for programs that show the qualities listed here.
Prepare new teachers to know subjects and students
Have clinical training that prepares graduates to effectively teach
Continually self-assess and conduct evidence-based research
These requirements, ensure that graduates from accredited schools will be prepared to teach upon graduation. If a school isn't accredited it doesn't mean that it's a bad school. It simply means that you need to perform more independent research to determine the quality of the degree.
What Can You Do with a Bachelors in Elementary Education?
The United States Bureau of Labor Statistics (BLS) expects the number of kindergarten and elementary school teachers to increase 6% during the 10 years from 2014 to 2024. That is an increase of more than 87,000 jobs. [iv]
Some of the other positions, and their 2015 median annual salary, are listed here.
Kindergarten Teachers: $51,640
Elementary School Teachers: $54,890 v
Middle School Teachers: $55,860 vi
High School Teachers: $57,200 vii
These teaching positions have similar requirements, though each of the different age groups has their own challenges.
For instance, high school students may deal with stress of having a part-time job or preparing for the SATs. Elementary school children may be more prone to distractions and disturbances in the classroom.
To become a public school teacher at any of these levels, you need to have earned a bachelors degree and taken a position as a licensed teacher. To teach in a private school, there may be other requirements. [viii]
Certifications in Elementary Education
To become a licensed teacher, every state requires that you have earned a bachelors degree. There are more requirements that vary from state to state. Some of the most common requirements are listed here.
Complete Student-Teaching
Pass General Certification Test
Background Check
Graduate with Minimum GPA [ix]
Keep in mind that each U.S. state has their own rules. Check with your state to find your specific requirements. Typically, programs that offer a bachelors degree in elementary education know the requirements for many states.
[i] bls.gov/ooh/education-training-and-library/middle-school-teachers.htm#tab-4 [ii] bls.gov/ooh/education-training-and-library/high-school-teachers.htm#tab-2 [iii] bls.gov/ooh/education-training-and-library/kindergarten-and-elementary-school-teachers.htm#tab-2 [iv] bls.gov/ooh/education-training-and-library/kindergarten-and-elementary-school-teachers.htm#tab-6 [v] bls.gov/ooh/education-training-and-library/kindergarten-and-elementary-school-teachers.htm#tab-5 [vi] bls.gov/ooh/education-training-and-library/middle-school-teachers.htm#tab-5 [vii] bls.gov/ooh/education-training-and-library/high-school-teachers.htm#tab-5 [viii] bls.gov/ooh/education-training-and-library/kindergarten-and-elementary-school-teachers.htm#tab-4 [ix] bls.gov/ooh/education-training-and-library/high-school-teacher