Crowdfunding is financing a new business venture with many small contributions from individuals, usually via the internet.
Crowdfunding by the Numbers
$16.2 billion: Crowdfunded worldwide in 2014
1,250: Active crowdfunding platforms worldwide
56%: Share of worldwide funding raised in North America
40%: Share of funding raised for business and entrepreneurship
270,000: Jobs created by crowdfunding in 2014i
$90 billion raised through crowdfunding by 2020 (as predicted by the World Bank)
Crowdfunding: Not Just for Millennials (Would be better as a bar chart, maybe with stacks of money for the bars? Or alternatively, figures representing each age group could be shown – a young adult to represent Millennials, etc. This would help the viewer to visualize who their target audiences should be if they intend to use crowdfunding.)
| | | |
| --- | --- | --- |
| Age group | Has given | Likely to give in the future |
| Millennials | 17% | 47% |
| Gen X | 10% | 30% |
| Baby Boomers | 6% | 13% |
| Mature | 2% | 4% |
Types of Crowdfunding
Rewards-based: Donors receive incentives, like a small gift or the product itself. The bigger the donation, the better the reward!
Donation-based: Individuals and non-profits solicit donations for good causes – like disaster relief or emergencies.
Peer-to-peer lending: Individuals borrow money from the crowd, then pay it back with interest.
Equity crowdfunding: Accredited and non-accredited angel investors alike may invest in a private company.
Top Crowdfunding Platforms*
GoFundMe
Kickstarter
Indiegogo
Teespring
Patreon
YouCaring
Crowdrise
DonorsChoose
Kiva
GiveForward
Share This Infographic On Your Site
What makes a campaign "successful"?
Netted a mean of $40,300 for business ventures
Earned an average of $813 per hour invested in the campaign
Received donations averaging $70 each**
Spotlight on: Kickstarter
This popular platform attracts many budding entrepreneurs.
265,000: Number of Kickstarter campaigns between 2009 and 2015
36% of campaigns were successful
29% of successful campaigns raised over $10K
5%: Kickstarter's cut of successful campaigns
Spotlight on: Lending Club
This peer-to-peer lending platform offers crowdfunded loans.
200,000: Loans serviced between 2006 and 2013
10%: Loan approval rate
$13,490: Average loan size
Crowdfunding Campaign Hall of Fame
Ethereum DAO – This decentralized autonomous organization (think Bitcoin, but bigger!) raised over $130 million in the largest crowdfunding campaign to date!
Roberts Space Industries – Their popular video game, Star Citizen, garnered over $115 million in crowd funds.
True Venture – In a self-hosted crowdfunding campaign, they raised over $27 million for their Glowforge 3D printer.
Pebble Time – This smartwatch company raised over $20 million, the most in Kickstarter's history!
Exploding Kittens – Game designers and cartoonists put this quirky card game together, reaching 87,825% of their Kickstarter goal!
Potential Benefits of Crowdfunding
Anyone can try it. Venture capitalism or small business loans are not for everyone. Crowdfunding may be a low-risk alternative suited to non-traditional ideas.
It puts the word out. Have a great product or business idea? Crowdfunding could help you market and presell your product.
You can test your idea. Wondering if your product is the next big thing? Crowdfunding may shed light on whether your idea has inherent mass appeal.
Your connections count. Have a wide network? You may be in luck! Crowdfunding lets you leverage your community to raise capital.
It creates buzz. A successful crowdfunding campaign could potentially attract interest from larger investors.
It could be bigger than venture capital. VC averages $30 billion per year, while crowdfunding keeps growing.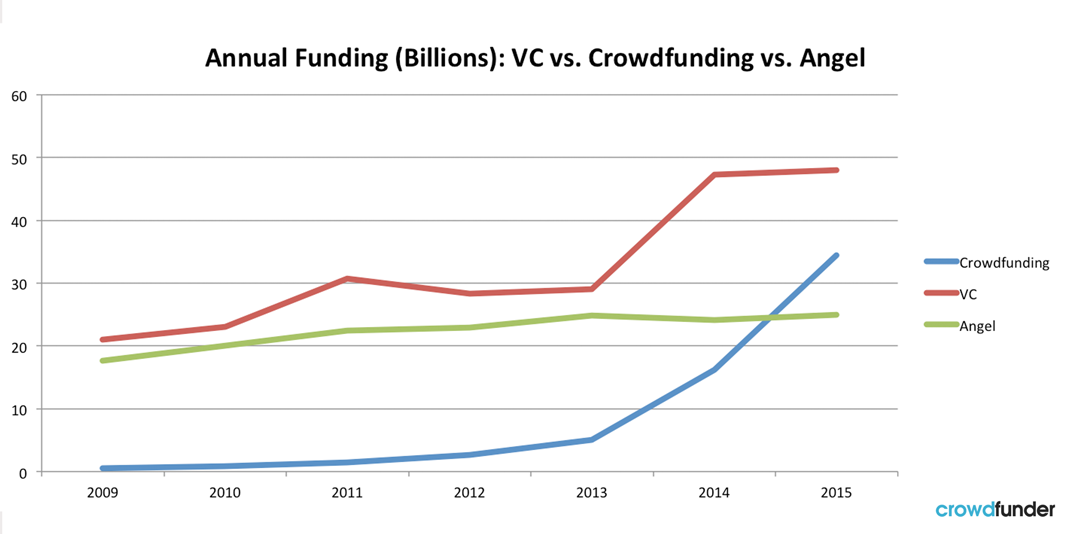 ---
*based on site traffic | **based on Kickstarter data | i crowdexpert.com/crowdfunding-industry-statistics | Additional Sources: ii freedman-chicago.com/ec4i/History-of-Crowdfunding.pdf | iii crowdfunding.com | iv crowdsourcing.org/editorial/global-crowdfunding-market-to-reach-344b-in-2015-predicts-massolutions-2015cf-industry-report/45376 | v forbes.com/sites/chancebarnett/2015/06/09/trends-show-crowdfunding-to-surpass-vc-in-2016/2/#15802b6576da | vi /crowdexpert.com/crowdfunding-industry-statistics | vii forbes.com/sites/cherylsnappconner/2014/01/21/new-report-the-roi-of-crowdfunding/#38e93dd65cd8 | vii alleywatch.com/2013/07/kickstarter-statistics-dissected | viii investopedia.com/articles/insights/051716/dao-raises-130m-largest-ever-crowdfunded-project.asp | ix robertsspaceindustries.com/funding-goals | x /trueventures.com/the-27-9-million-crowdfunding-campaign-qa-with-glowforge | xi entrepreneur.com/article/235313 | xii forbes.com/sites/chancebarnett/2015/06/09/trends-show-crowdfunding-to-surpass-vc-in-2016/3/#2665e9a56078